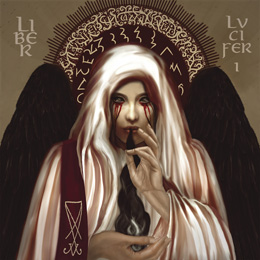 Album Title:
Liber Lvcifer I: Khem Sedjet
Greek mysterious and occult outfit Thy Darkened Shade return with the sophomore album Liber Lvcifer I: Khem Sedjet, successor of 2012's Eternvs Mos, Nex Ritvs (which was released on the World Terror Committee roster as well). Semjaza (instruments & production; also in e.g. Nadiwrath or Acrimonious) and The A (vocals) worked together with (to me unknown) session drummer H.G., and they recorded the material at two studios, Sitra Ahra and Woodshed. The production was done by Mencea / Satan's Wrath-guitarist Stamos Koliousis (worked as producer for bands like Chton, Sturmgeist, Luna Obscura, Scar Of The Sun, Iskald etc.) and Dark Fortress / Triptykon-frontman Victor Santura (worked in the studio for bands like Obscura, Winterhorde, Hellsaw, Schammasch, Kuolemanlaakso a.m.m.) respectively; the latter also took care of mix and mastering.
Liber Lvcifer I: Khem Sedjet lasts for seventy seven (!!!) minutes and comes with very fine cover artwork, courtesy of Vamperess Imperium, who did create cover art too for bands like Dodsferd, Acherontas, Nightbringer or Acrimonious, amongst others. The album starts with the short introductional track Holy Lvcifer, which is a symphonic and slow Metal track with an operatic approach. It does lift a tip of the veil, giving a perfect idea of what's next to come.
And indeed, as from Revival Through Arcane Skins, Liber Lvcifer I: Khem Sedjet brings mysterious and occult Black Metal, rather up-tempo, filled with Greek tradition, and at the same time very technical and melodious. The technical execution sounds little progressive, yet not of the avant-garde kind, but rather in a mid- to late-nineties spirit. The speed changes a lot (the opening sequence and some further excerpts in Nox Profunda, for example, stand for the most fabulous Doom majesty I've heard in quite some time), but since most tracks are pretty lengthy, that isn't but a necessity. Within most pieces, there are symphonic / bombastic / orchestral elements too, adding a nice extra dimension to the already intriguing and exploring creations. In between the long, energetic and deadly assaults, there are points of rest too, such as the short (less than one minute and a half) Black Light Of Sitra Ahra, that brings, just like the intro, an obscure veil of mysticism. It stands in a nice, yet cohesive, contrast with the sometimes dissonant and eccentric structures that characterize the intelligent and multi-layered complexity of most parts. Remarkable too are the prominent bass lines, creating their own melodious spirit (great mix!), and probably more progressive in performance than the tremolo leads or breaks. And hey, those spoken words and vocals in Daemon Phosphorus, aren't they recognizable? Actually, they're performed by nobody else but Georg 'Magus Wampyr Daoloth' Zaharapoulos of Necromantia / Thou Art Lord / Naos / Diabolos Rising / Principality Of Hell / …-fame.
Lyric-wise, this album goes beyond imagination. Thy Darkened Shade profoundly studied old thematic works dealing with belief / religion, occultism, mystic matters and esoteric subjects. A surplus, especially for those amongst you who like to deepen into these matters.
If there is anything 'negative' I have to add, well… I am nitpicking right now, but I think the production might be little too polished. It's full and rich, with a grandiose mix, but I am craving for some additional rawness within the overpowering sound. But as said, I am just focusing on a minor detail, and you might not agree. Some might think this album is 'too much', for being almost eighty minutes of eardrum-raping sonic terror, but believe me if I say that you won't be disappointed. Not once the album falls back into oblivion or boredom, so I'd like to wish you aural joy…