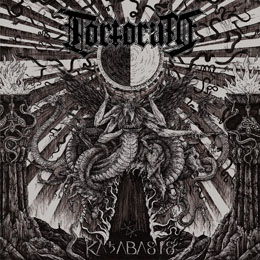 Blazej Kazimierz Adamczuk is a Polish multi-instrumentalist who used to be part of some of Poland's most notorious bands, like Thunderbolt, Legacy Of Blood and Veles. At that time, he acted under the name Paimon. At the end of last decade, he moved over to Bergen, Norway, and he joined Dead To This World, a band formed by former Immortal-bassist Iscariah, as from now under his new artist name, Skyggen. Because he had lots of ideas that he could not realise when still living in Poland, he felt the urge to start his own band too. Finally, in 2010, Tortorum were born. Soon after, he got joined by Barghest (the vocalist / bass player involved with e.g. Spearhead and Yersinia Pestis [the English one]) and the duo started working on a first album. Tortorum signed to the World Terror Committee (W.T.C. Productions) and with session assistance by drummer Erik 'Vrolok' Hæggernes (think: Bourbon Flame, Gorgoroth, Aeternus, Deathcon or Sulphur), they released the debut Extinctionist in 2012 (review: see update on November 1st 2012, Archive). I was pleased with the result, despite the lack of an own identity. Then the band started touring (with bands like Blacklodge and Horna), with inclusion of session members, such as Iscariah (Skyggen's colleague in Dead To This World, as mentioned before) and Specter, whom Skyggen knows from his performance duties in Aeternus (FYI: Specter is also known from Vulture Industries and Gravdal). This guy, Specter, joined Tortorum as permanent member in mean time, and the trio (Skyggen, Specter and Barghest) entered the famous Swedish Necromorbus Studio (think: Merrimack, Portrait, Valkyrja, Ofermod, Demonical, Zombiefication and tens of others) to record Katabasis, the successor of Extinctionist.
For the better part, Katabasis goes on where Extinctionist ended. The album (fifty one lovely minutes of duration) brings Nordic-styled Black Metal with a black-bleeding heart of Second Wave purity. And this approach goes for the whole experience: riffs and rhythm, song structures, instrumental and vocal performance, sound, tempo and tempo-changes; even the artwork is comparable. But as I did mention in the review on the former album: this is 1) 'not a rip-off edition of this glorious past', and 2) 'a Black Metal purist does not care about this, because it's the whole package that counts. And in Tortorum's case the package is just superb in its most evil sense - something a misanthrope cannot but appreciate, not?!' [both phrases taken from the original review].
[damn, I must be good, for I am about to quote myself in mean time]
Once again Tortorum create an intense sonic experience which can only be accompanied by superlatives. It is rhythmic and melodic, but at the same time so intense and overwhelming. And besides -and that might be a mostly positive evilution, excuse me, evolution- there is more variation in between the hymns this time, going for changes in speed, melody and structure. …still with a recognizable Nordic nineties-approach, of course, but still… Also the sound might have progressed a little, for being slightly more Post-Black oriented.
Can you imagine a mixture of Gorgoroth, Ragnarok, Dissection, Istapp and Taake…?... If so, then you will have this album as possible outcome.