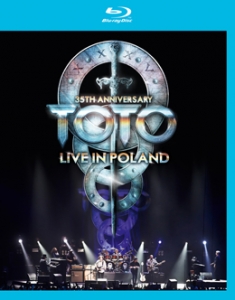 Album Title:
35th Anniversary Tour - Live In Poland
Toto, a legendary American band, that has scored his first hit in 1979, with 'Hold The Line', a song that still is played on the radio channels, who scored again in the early eighties with hits like 'Rosanna' and 'Africa', and the list goes on.  For me their best album of all times however still is, and probably will always be their fourth album, simply called 'IV'.
Over the years there have been numerous line-up changes of course, especially in the vocal department, but one member always stayed on board and that was Steve Lukather.  Other key members have been Jeff and Michael Porcaro.
To celebrate their 35 years existence they did a tour,  that also attended Europe.  It seems originally it was intended to record a show in France, but a strike by the French transportation workers halted this plan, and finally it was Steve Lukather himself who suggested Poland. And thus was done.  The DVD coprises 22 songs, spanning their log career, with one exception, 'The Muse', that's a brand new song.  Looking and listening to this DVD almost brought tears to my eyes, hearing all those all too familiar, but still sounding great, classics.  And while I always have had a weak spot for rhier original singer Bobby Kimball, I have to admit that the what Joseph Williams delivers here, is of the same, or even better quality.
Besides these  22 songs, there is also a 'behind the scenes' part on the DVD, but for me the most important part is the music, and all the rest is interesting, and fills in the gaps. A must have for all fans of classic rock, who don't think into cages, since Toto's music blends in lots of other musical influences, and of course also for Toto fans. It's available as a 2 CD-set, DVD, Blu-Ray or as a deluxe edition with a 60 page book.