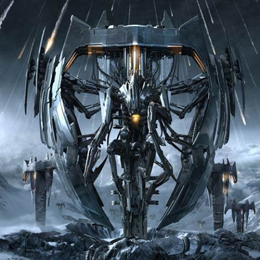 Trivium is an American metal band from Orlando, Florida, and was formed in 2000. At a high school talent show, Matt Heafy (current front man) performed a Metallica cover and (past frontman) Brad Lewter noticed Heafy and asked him to try out for his band witch he joined later on.
After a few years, line up changes, a record deal with Roadrunner Records and actually some luck (they got to play a main stage show witch normally wasn't planned). So that brings us to their latest creation entitled Vengeance Falls.
Now for those who are familiar to their music, This new record can best be described as: "In Waves", a little bit less screaming and little tweak in their sound. So if you liked that record, you know what to expect. Of course like previous time, you can chose between a normal record and a limited edition.
The limited edition has 3 extra songs witch is always fun (who doesn't like something extra). But to be honest these songs don't actually fit in with the record. For example one of these is more of a punk song that your typical Trivium tune. And of course there is nothing wrong with that, but it does make it more of a fan thing. In the end it is a awesome Trivium album.