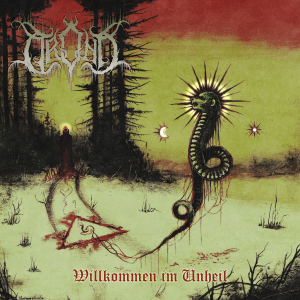 I do know Tino Thiele from his activities in Wulfgar and Metamorph especially, although this guy has / had some other (smaller) (solo) projects too. And not that long ago I was happily surprised (indeed, I got attacked by the emotion 'happiness' somehow, but it didn't kill me), and positively amazed (also 'positivism' tried to break me, but I stood up, raised my fist, and survived once more), when I heard that he joined forces with Aleksey Korolyov in this latter's superior project Abigorum. And apparently, German-born Tino, aka Fluch, started another solo-outfit in 2018 or so, called Trond.
With Willkommen Im Unheil, which is German for 'peace and love to all of you', eh, I mean, 'be welcome in disaster' or 'welcome to mischief', Trond offers us their first official effort. Tino 'Fluch' did almost everything himself: song writing, poetry (all in his mother tongue, so you better learn some German soon; though, as you can imagine, it is not about daisies, sunny beaches or the joy of happiness) and recording. It gets released, besides via the modern digital sources, on jewel-case compact disc (I think there are five-hundred copies available), including a three-folded six-page booklet. It comes with remarkable but somehow intriguing artwork, created by Romanian visual artist Luciana Nedelea (actually she's from Transylvanian soil), who worked with majestic projects and bands like Abigorum, In Shadows And Dust, Cryostasium, Kalmankantaja or Enbilulugugal before. I think it is a bizarre cover painting, teasing my fantasy, with a remarkable color palette. Abigorum's Aleksey took care of the layout, and it is this guy's original label, Satanath Records, taking the release duties. This time, that release goes in partnership with Black Metal Propaganda Deutschland (both labels did work together before).
Willkommen Im Unheil is a ten-track recording, which opens quite ominous. But soon everything turns into a mighty soundscape of obscurity and wrath. Calamity and misfortune be welcome! Trond performs a truly overwhelming for of Black Metal, which has a very epic melodic approach and a dissonant execution. The tracks are very melodious, with a lot of twin soloing and tremolo picking as basement. That's quite hypnotic from time to time, as if these melodies accompany the listener to spheres beyond our knowledge. Especially the slower and mid-tempo pieces exhale that dreamlike character. What's more, those chapters even contain the epic pride from the old school.
Within the huge variation, all tracks do consist of faster excerpts too. It does not blast a lot, yet the energy is devastating and destructive. Even within these brutal parts, Trond maintain that great melodious epicism.
I adore the way the backing instrumentation is mixed. The bass and rhythm guitars are clearly audible, and seen the fine performance of these supportive elements, it is a surplus. And okay, the basics are built around guitar riffing, tremolo leads and twin solo aspects especially, but the rhythm section is a t least as important, and strengthens the final result. The vocals too are not too much mixed towards the foreground, yet used as an organic element that characterizes this vengeful adventure. Besides, the main vocals have a specific grim, guttural timbre, but some parts come with rather harmonious or evocative ones, as well as spoken voices.
Even though the fundaments are related to the old styled approach, the result somehow sounds timeless. Several riffs have a sound that comes close to the Post-scene, and the fine subtlety of this aspect makes the listener discovering new things by each listen. Especially the slower chapters have that dissonant guitar sound, while the faster excerpts come closer to the malignant noise of the earlier years.
Trond are not a project that renews the scene. They are not reinventing the scene, exploring progressive paths of modernity. Yet then again, it is not just another copying act either, purely plagiarizing the scene. There are comparisons for sure, but from such different angles that it would be a waste of time to sum them up. But in any case, with Willkommen Im Unheil, Trond offers a truly grandiose mixture of Old Style Epic Black Metal and uncompromising Post-injected Black Metal, with a lot of variation in tempo, an extremely scarifying attitude, and above all: persuasion and perseverance.
https://satanath.bandcamp.com/album/sat253-trond-willkommen-im-unheil-2019
https://www.facebook.com/watch/?v=2442225642717015
https://www.concreteweb.be/reviews/metamorph-sch%C3%A4delberg
https://www.concreteweb.be/reviews/abigorum-0
https://www.concreteweb.be/reviews/wulfgar