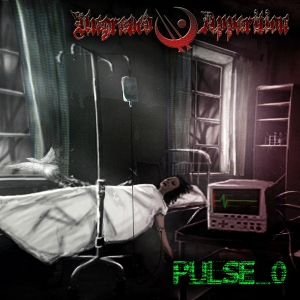 Ungraved Apparition are a young band from Ekaterinburg, a city at the feet of the Ural Mountains in the Russian Federation. The band was formed in 2014 by guitar player Micky Babossa, joined by drummer Paul Kas (who takes care of the visuals too) and bassist Leon Kratt. When vocalist Damned and guitarist Bones Taker joined, the five-piece was ready to record their first album. This one is called Pulse_0 and it consists of seven 'real' tracks, all of them divided by an instrumental intermezzo. But I come back to this immediately. Anyway, the band signed to Belarus-based GrimmDistribution, which is part of the Satanath Records company. GrimmDistribution used to be one of the distribution channels for Satanath Records and Symbol Of Domination Productions before, but label owner Aleksey decided to reform GrimmDistribution into a full label too. They release the compact disc in an edition of 500 copies in jewel case, including an eight-page booklet.
Pulse_0 lasts for thirty-four minutes (the intermezzi included), which are brought in the band's mother tongue. The concept deals with helplessness and impotence, sickness and depression, the sadistic abuse of forceless victims and frenzy surgical experiments and torture, and the life-after-death existence. It's quite horrific, delving deep into the most morbid, filthy pits of man's sickened mind. Cheers!
The opener Кома starts off with a desolate guitar riff, soon joined by more strings and a somewhat progressive drum pattern. After just one minute, everything turns into a My Dying Bride-ish heaviness, with massive, trampling riffs and dirty, even diabolical vocals, both blackened and grunting. It's quite slow and melodic, even melancholic, yet incredibly intense and dingy in execution. Damn, this is that kind of Dark / Doom Metal that brings out the nastiest ideas… Even the hospital bleeps, announcing death, are present.
More sonic mercilessness follows immediately after, with the first interlude. Спаси! (intro) is a creepy piece based on some distantly-floating droning synth lines, joined by footsteps in a desolate clinic corridor, whispers and talks, screams and eventually the sound of some surgical instrument. Welcome to your nightmare… Help!
Спаси! is a short yet mostly monumental Dark / Doom / Black / Death epic, slow and pounding, colossal in sound, and simply skull-crushing. The same goes for (chopped in) pieces like Неумершее явление ('ungraved apparition'), which is a brain-squeezing headbanger, with slow and faster excerpts, truly fantastic solos, a magnificent string section, and bleak, grim grunts, resulting in a theatrical and suffocating epos.
Occasionally, things seem to turn towards inner tranquillity and self-relativity. An epic like Тот, кто не дышит ('one who's not breathing') offers us a fabulous Doom-Death mo(nu)ment. Okay, it is a collage of clichés reminiscent of the scene, but it is just incredible to notice the unique performance of those 'known' elements. The tempo-changes are represented, and so are the melancholic riffs, the use of acoustic guitars and the typifying deep growls, but then again: who minds the lack of being renewing? This is high-qualitatively composed and performed, and with such mighty atmosphere included, the result is astonishing. In a comparable devastating vein lies Гнилостные бактерии ('putrefaction bacteria'), which is such grandiose classic-to-be, comprised of nothing but impressive details, perfectly and naturally mingled into one fine aural symbiosis.
The interludes all come in that very same horror-themed way as aforementioned Спаси! (intro). Creepy synth lines and sound sources (fragments, samples and noises from different angles) are mingled together, visualising themes of terror, torture and, in consequence, despair and apathy.
All pieces, without exception, on Pulse_0 show the unique approach of Ungraved Apparition. This is Dark Metal indeed, and this is Doom Metal as well, totally poured over by details from the Death and the Black Metal scene, being written and performed in a manner that is distinctive from the familiar. As said, there are a lot of predictable clichés involved for sure, but the result is, to my opinion, above expectation. I deeply hope this band will soon start writing and recording new stuff.