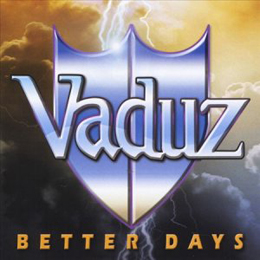 Release Date:
Friday, September 21, 2012
To many of us, Iowa based Vaduz will be a new name, yet the band's roots go back all the way to 1987!
The band was originally founded, when a mutual friend of 2 different bands brought vocalist Brian Wade and guitarist Ringo Lee together in a new band called Blind Ambition. Before long however, they changed their name to Vaduz, having seen it on a travel brochure (Vaduz is the capitol city of Europe's midget state Liechtenstein, which only measures some 160 km², has a total of 36.713 inhabitants at the last count in 2012, and is cornered between Switzerland and Austria). Within a year Vaduz changed its original bassist by Jimmy Krio and went on tour full-time. While on tour, they encountered Matt "Vinnie" Finn, and enlisting him as their drummer, completed their current line-up. All band members, by the way, are Iowa natives! The band went on to release two independent albums, and pretty much toured all over the US. But the continuous traveling, combined to the fact that the band wasn't really breaking ground (ai...it was the beginning of the '90s, you know, and that's when Grunge music rules the waves, especially in the States!), eventually made the guys call it quits in 1993.
Each member doing his own thing, the guys nevertheless stayed in touch. After reconnecting to a lot of their old fans thanks t internet, the band eventually reformed to play a triumphant show in the Fall of 2010. it felt so good to be playing together again in front of an audience, that the guys decided to make it an annual event. They also started writing some new tunes, and eventually entered Cedar Falls (the town is situated just West of their hometown Waterloo, Iowa) based Catamount Studios in December 2011 to record their latest album with the aid of producer Tom Tatman (a veteran of the scene, having produced over 300 records including Stone Sour's first).
Listening to the album is like turning the clock back to the late '80s, and that's exactly how the band intended it. Still, while the band claims having had Kiss, Bon Jovi, and Boston as its main influences, they don't sound quite like any of 'em either. Some may say differently, but make up your own minds by checking out the songs posted either at the band's facebook page, or at (www.) reverbnation.com/vaduz (same songs, but also some videos). I'm afraid you'll easily understand why the band never made it into the major league back in the days: while the songs are surely catchy, and the delivery moderately well-done, there isn't really anything to set this band above the middle-of-the-road type of band in the genre. Which is okay when you're a genre purist, and which will do as a support act for a more popular act, but which won't attract that many people on its own power, baring of course locally, where the band's songs may be well-known.