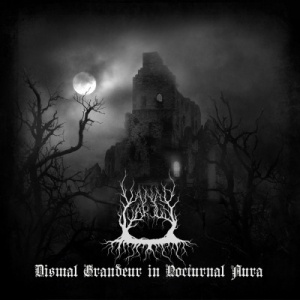 Album Title:
Dismal Grandeur In Nocturnal Aura
Release Date:
Saturday, January 30, 2016
I had not heard of Estonian act Vanad Varjud before, but deep investigation learned me that this trio released a first recording in 2014 (which was called Apooriad, done on tape). Back then they were a duo, existing through highly productive / active musicians Thon and Sorts; but in mean time they recruited a lead vocalist, Ott – this guy, by the way, did work with the other ones before as guest / session vocalist on some of the many other projects these guys are involved with. As a trio, Vanad Varjud, which means something like 'old shadows', if I am not mistaken (Google Translate, you see…), created this first full length, ingeniously called Dismal Grandeur In Nocturnal Aura. It consists of four lengthy pieces, clocking fifty minutes (the pieces last in between ten and fourteen minutes).
In general, Vanad Varjud bring a mesmerizing, cold and slow-paced for of Post-oriented Melancholic Black Metal with quite some elements from related genres, such as Drone (listen to the introduction of opening track Tume Kamber, for example, which also comes with some details à la Ritual Necro-Ambient and Funeral Doom, up till the fifth minute). There are many sonic layers; let's take that opening piece, for example. After that aforementioned introduction, the piece is built upon a repetitive guitar melody especially, including additions of other guitar riffs, the use of piano, sampled background sounds and so on. On top of it, each composition has its own face, its own attitude. While the opener is quite melancholic and delusive, Winter's Dawn, being introduced by a semi-divine organ-introduction, is much more epic and Doom-laden – the wonderful intermezzo at about half of the composition, including acoustic guitars and wind bells, and the sounds of howling wolves and blowing winds, is not just a hollow passage, yet an excerpt with identity, with elementary content. Dismal Dusk then again is a harsher experiment, with somewhat dissonant guitar riffs and a head role for the masterly screaming grunts of Ott, and within the slower passages – I can't help it – I permanently hear the grandiose creativity of act like Khold, Tulus or early Keep Of Kalessin, while the last track, Gloomy Sunday, might be the most grooving and, at the same time, the most Doom-Death-laden piece too. Indeed, all four compositions have their own identity, yet there is an incredible coherent cohesion going on with Dismal Grandeur In Nocturnal Aura, which surely is one of the many surpluses that do characterise this second Vanad Varjud album.