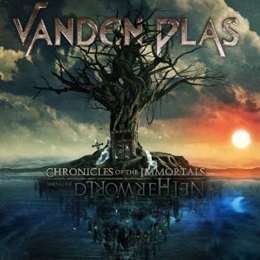 Album Title:
Chronicles Of The Immortals - Netherworld
Release Date:
Friday, February 21, 2014
A new Vanden Plas album is always something to look forward to. They've never failed to amaze me with their fantastic albums.  Four years have passed since their last album 'The Seraphic Clockwork'.  But it has definitely been worth the waiting .
They've already released a couple of 'themed' albums, and this one is no exception.  It's based on the story 'Chronicles Of The Immortals – Netherworld' by German writer Wolfgang Hohlbein.  But before they made this album, they first wrote a rock opera based on the books.  They later turned this theatre peace into this album.
Once again they've managed to make a perfect combination of harder songs or passages, and softer passages, where each instrument alone would not be remarked, but the combination of the different instruments delivers us heavenly music.