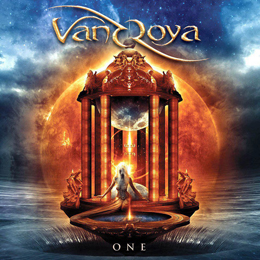 This Brazilian band has been around for some time, yet it is only now they have released their debut album.  Led by Daisa Munhoz, a rather good looking lady, with a fantastic voice, they bring us high quality progressive power metal.
Formation of the band dates back to 2001, and between then and now they've only released an EP  in 2005.  Recording of this album started in 2010, and it was finished toward the end of 2012. What immediately struck me was the artwork.  This was done by Felipe Machado Franco, who I the past has also done artwork for albums by e.g. Blind Guardian, Iced Earth and others. The album is just stunning.  Maybe this has something to do with the fact that they have been fine-tuning their music over the last twelve years, but who cares.  And I must stress once again that the vocals are of an angelic quality.  This lady's range is phenomenal.
But the other musicians should not be left in the dark either. The riffs you hear on this album are sensational, the guitar solo's are killers, and don't forget the rhythm section who simply blows you away.