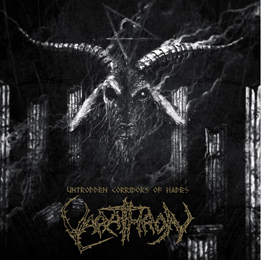 Album Title:
Untrodden Corridors Of Hades
Release Date:
Friday, November 21, 2014
It's not because I'm lazy (at least, it's not only because I'm lazy right now) that I am not going to write a huge introduction about this band, but you know, Varathron are so 'huge'; they do not really need a full introduction anymore, do they? They are one of the oldest (formed at the end of the Eighties) and most influential bands from Greece (along with, let's say, Necromantia and Rotting Christ), which I do follow as from the release of their first demo-tape, Procreation Of The Unaltered Evil. They released quite some fabulous, quasi-cult albums in mean time, though there were some fall-backs too, I think.
Also of importance: the Kokkinos-brothers Sotiris and Haris, who joined Varathron after a short break, are also in No Hand Path (which also includes Radiant Eye Rex-owner Ramin). I mention them, not because they do not sound alike (at all), but this Greek band will release a new album in a very near future. As appetizer, I recently reviewed their former album, An Existence Regained – see update on December 10th 2014.
Anyway, this new Varathron-album was recorded, produced, mixed and engineered at the Infinite Loop Music Studio with Kostas Kalampokas (of Spider Kickers-fame) behind the knobs, and the result was mastered at the famous Strype Studio by nobody else but Tom Kvålsvoll (think: Vinterriket, 1349, Dimmu Borgir, Borknagar, Ragnarok and hundreds of others). The nice artwork, very varathronish indeed, was done by Grave Wax / The Soil Bleeds Black / Equimanthorn / Macabra / Fetid Zombie / …'s Mark Riddick, who did the artwork for hundreds of others bands before (think Kawir, Gravecrusher, Yskelgroth, Profane Grace, Arsis and many, many more).
Once again it has nothing to do with being lazy right now, but here's what I have to say: cool stuff! Search for it. This said, I can proudly end this review…
No, just kidding, but it's true that Varathron impress once again. It is not these guys' long-running experience alone that gets canalised in such impressive result (the past showed such thing a couple of times), but with Untrodden Corridors Of Hades, Varathron really created a masterpiece with nothing but superlatives to join. There is so much to experience, so much depth, so much energy, so much craftsmanship, and especially, pretty much variation, with, and that's extremely important, a fabulous cohesion throughout these fifty minutes of Black Art. Both song writing and performance are of a superior quality, and each individual song has something majestic, time after time. I listened to this album a couple of times in mean time, and each time there are new things to discover within the multi-layered structures. Now, while enjoying this album for a one hundredth time, I feel like uncovering new things I hadn't passed through yet. What strikes me is the main tempo, which is mostly of the slower kind. Of course there are several faster pieces, but that tranquillity of speed nicely contrasts with the intensity of the content, a reciprocity strengthening the obscure, little asphyxiating atmosphere of Untrodden Corridors Of Hades. On top of it, this album comes with a magisterial sound, which is full and thick, yet still showing hints of rawness.
Got the picture?...