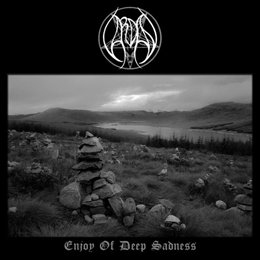 Vardan are a very productive solo-outfit by an Italian guy called Vardan, whom you might know from e.g. Nostalgic Darkness, Anwech, Tomhet, Magnus Obscurus or Leaden. I do not have all their material in my possession (I bought / received four or five Vardan-albums in the past), but what I do have is of a very satisfying quality. Enjoy Of Deep Sadness just strengthens this statement.
This album consists of very lengthy songs once again, three in total, all of them lasting for about eleven - twelve minutes. In general it goes on in the vein of the past, with The Woods Is My Coffin in mind specifically (released earlier this year; 'very productive', I did mention???), but the production has changed for the better. The sound, although still rough, un-clean and anti-sterile, is very 'warm' and 'full'. When it comes to the compositions itself, I still need to mention the specific atmosphere: haunting, obscure, melancholic, depressive, sorrowful. It's a characterisation of Vardan's Aural Art, and there's no need to deny, ignore, or disobey this coldness, this grimness. The main riffs might be little too repetitive, but I think (and that is a personal opinion of an adept of this kind of Sonic Superiority) that it comports…
One difference, besides the amended sound: the addition of (just a limited couple of) clean (background) vocals, never elaborated so clearly before. Ridicule, but because of the limitation, almost completely ignorable.
Once again I will be very 'short' in writing a review for a Moribund-release. Why spending too much time / energy in thinking about how I feel. I want to close my eyes, and listen to this stuff once again. Kids gone to bed, wife watching a cooking program on TV, and I have the pleasure to enjoy this deep sonic sadness… The only thing I want to add is that I do prefer the former album(s) little more, but still this is majestic in its purest essence. Please enjoy this deep sadness…