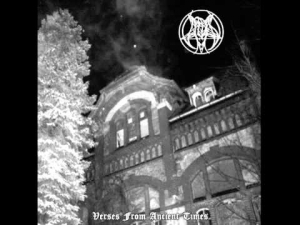 Album Title:
Verses From Ancient Times
Release Date:
Tuesday, January 20, 2015
I lost it, counting the releases by Vardan. Does it matter? Yes and, at the same time, no. No, because the origin of this stuff is, like it has always been, very pure, decent, professional, convincing, grrrrimmmmm… Yes, it does matter, for it is once again another typifying Vardan-release… Well, to be honest, I do have a couple of Vardan's recordings (being both promotional editions I did receive throughout the past decade, as well as several ones I did steal buy myself), and never it did disappoint me. An example is Enjoy Of Deep Sadness, which I did review + updated on July 18th 2014 on this site's review-section (check it out, folks!). And with Verses From Ancient Times Mr. Vardan brings its xxth release, once again going on within the very same vein, yet for the fans, being an album once again delving deeply into the very same mines of obscurity, desolation, wonder and revelation.
Verses From Ancient Times consists of four lengthy pieces, having a total running time of thirty five minutes (five to eleven minutes for each track). It goes on, for the better part, in the vein of the latest efforts, which means: intense and overwhelming, and at the same time oppressive and grim Black Metal with quite an atmospheric approach and a no-nonsense, timeless execution. The Moribund-approach, evidently, isn't that far away… I noticed a very small back-turn towards confidentiality and permissiveness with Vardan's latest release(s), but the effort / execution / sound did return to the initial layer of grimness once again with this Verses From Ancient Times-album.
What strikes me a lot is the main tempo, being much more energetic and forceful than before. It does not infect / influence the final result when talking about sound, atmosphere of acceptance, but I think it cannot be ignored at all. Vardan still remain the very same entity, but the increased heaviness, at least when talking about the speed, cannot be ignored or denied that easily. As a (independent / subjective) reviewer I just need to add this comment… But it does NOT cause any differentiation towards my appreciation for this project, for Vardan, well, you know: Vardan = Vardan, and if you appreciate this project's former stuff, then you will surely adore this new material as well! A track like IV comes close to stuff provided by means of Hidden In A Tomb, The Woods Is My Coffin or the split with Striborg, but the permanent evolution – and the staying-true-to-its-roots-attitude at the same time – remain…