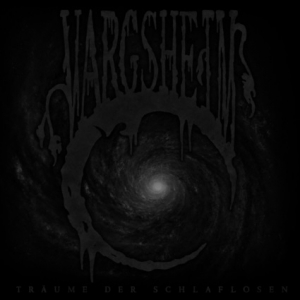 Vargsheim are a band from the Baden-Württemberg region, formed in 2004 as Blutrunst by Harvst, Kaelt and Blutwolf. After the release of the demonstrational recording Eine Nacht In Düsteren Nebeln, guitar player Blutwolf left the band, and Blutrunst changed their moniker into Vargsheim. After a while, by the way, Blutwolf re-entered the band, this time as drummer, but once again after a demo (nameless), he left, shortly after being replaced by Hlidskjalf's sole member Naavl. A split in between both project (Vargsheim and Hlidskjalf) did follow soon after, and in 2010 Vargsheim released their first full length, Weltfremd. Then came a split with Imperium Dekadenz (and for your info: the three members of Vargsheim are part of the live line-up of this German duo), followed in 2013 by a second full length studio album (their first for current label MDD Records). Undersigned did write a review for this one, called Erleuchtung, which was uploaded on April 29th 2013.
Their newest epos, Träume Der Schlaflosen ('dreams of the sleepless'), is a nine-tracker, recorded by Nikita Kamprad (Der Weg Einer Freiheit), and mixed by Christoph Brandes (think: Imperium Dekadenz, Necrophagist, Dead Eyed Sleeper, Unlight, Darkness Ablaze and many more). It goes on in the vein oft he former release(s), and even further, by still bringing a highly unique, unusual and original form of Extreme Metal. The essence for sure is based on the traditions of Nordic-styled Black Metal, and this get expresseed through numerous elements: the epic melodies, the pounding rhythm section, the sulphur screams etc. But once again this band goes further, much further, adding elements from several different styles, often yet not always related that evidently tot he blackened current. When focusing on the blackish approach, one might notice angles from all extremes: the doomier side of Black Metal, Post-Black material (structurally and atmospherically seen much more than before), the so-called Blackgaze trend, and Traditional Second Wave-oriented stuff, evidently. Further on there are elements from Sludge and Groove, Post-Rock and Prog, but in contradiction to the former recordings, Träume Der Schlaflosen is less experimental (at least the eccentric way), and therefor much, much denser, deeper, darker, grimmer. The cohesion and recognizion has been worked out much more balanced, and focusing rather on a classic path of old schooled epic than some complex cacophony (though it has always been quite structured – no doubt about that). There are more slower passages than before (and hey, riff-wise, My Dying Bride come to mind more than ever before!; cf. the bass lines in a track like Finning, for example, or the introduction to Erdenrost).
Conclusion: Träume Der Schlaflosen might not be as complex as its predecessor(s), and more traditional in approach and execution. I do not think it's a bad evolution, though the eccentric fans might be somewhat disappointed; the classic-minded ones will not. From objective point of view I see, once again, a great opportunity to satisfy quite an exquisite and open-minded (and therefor limited) audience, but my subjective part is quite contented with this evolution.