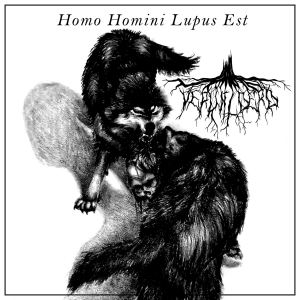 Release Date:
Sunday, February 28, 2021
Verwilderd (meaning something like 'haggard' or 'gone / grown wild') is a young Flemish band, formed in 2020 by producer / bass player Bram Janssens, vocalist / guitarist Brent Peeters (whom you might know from his involvement with e.g. Dark Palace) and drummer Siebe Hermans (think: Eye Of Solitude, Defenestration, When Plagues Collide, Mourners etc.). They did write a handful of tracks, and five of them were recorded, produced and eventually mixed by Bram at the ThunderWhaleAudio studio under the Homo Homini Lupus Est moniker. The result gets released via the contemporary known digital sources (Bandcamp; see link below), as well as on (regular black) vinyl (12", 140 grams) and compact disc (digipack edition, including a 12-page booklet). The cover artwork, by the way, is stunning, with that simple yet efficient white background, courtesy of Zina Janssens.
Their first assault is, as mentioned before, called Homo Homini Lupus Est, which is Latin for something like 'man is wolf to man'. This album consists of five tracks, having a total running time of about thirty-four minutes (two pieces clock around ten minutes). It brings a very organic-sounding mixture of Melodic Doom-Death Metal, Technical Death Metal, Blackened Death Metal and Melodic Black Metal, with elements from different related sub-genres. Uh? Indeed it is, and as said, this band succeeds to brings it in such natural manner, as if they canalise all of these influences into one newly-reinvented current. Okay, it might take some listens, but once you understand the totality, the hugeness of this recording, you'll deeply feel the ingeniously renewing concept. Attention: this does not mean that Verwilderd bring something totally new or reinventing. They just succeed to mingle different angles into one huge sonic adventure.
The five-track album opens with No Life For The Weak (9:16). It starts with a colossal opening sequence, with heavy yet melodious guitar leads, a powerful rhythm string section and thunderous, adventuresome drum patterns. Soon things slow down, evolving into a monumental yet down-paced bulldozer-thing with a warlike attitude (somehow reminding of some unholy bastard-child of Bolt Thrower and Hail Of Bullets), joined by the extremely deep growls of Brent. But there is so much more, for sudden eruptions of grinding fury mercilessly and sadistically penetrate the story, adding memories of the Nineties USDM trend. Tremolo / twin leads, high-pitched screams and acid-vomiting yells, lots of breaks and tempo-changes (in both directions: speeding-up and doomed), blackish riffs, pounding grooves; there is a permanent arousing game going on. Then, at about half of the track, everything fades away into rather emotional spheres. An acoustic intermezzo takes over the ride, as introduction for a timeless Doom-Death-oriented fragment, characterised by an ultra-heavy rhythm support, mesmerizing leads and those abyssal grunts. Towards the end, a gloomy guitar lead accompanies your spirit into a dreamworld of wonder and surprise – what a fine guitar melody, what a subtle bass lines, what an overpowering drum-work…
Next up is Wolves And Thorns (4:59), which is a high-tech expression of devastating craftsmanship, influenced by the American and Scandinavian scenes especially (even though the scene from the Netherlands is not that far away either). Lumbering passages interchange with blasting assaults and high-tech chapters, permanently shifting and twisting. In a mostly subtle way, elements from Teutonic Thrash Metal, classic Heavy Metal and even DSBM are part of the experience.
The shortest lullaby is called Eyes Sewn Shut (3:50), which opens with a dreamlike solo. Soon things evolve towards a victorious entity, including hypnotic tremolo leads, duelling vocals (grunts and screams), blackish riffing and, once more, subtle elements from (traditional) Doom Death Metal. Once again, what a fabulous drum patterns and marvellous background string section.
Despite (or better: 'because of') its length of more than ten minutes (10:23 actually), Tasting The Soil is a monument an sich, smoothly following Eyes Sewn Shut. It starts with a cinematic ambient introduction, and slowly, very slowly, step by step, it grows and gains intensity, subtly yet convinced. After three minutes and something, things turn nastier, with leads that are so sludgy and breath-taking, before eventually exploding into a rabid and full-force inferno. The atmosphere of the mighty Nordic Black Metal scene takes over the head role, eventually followed by a down-tuned piece of slow-paced Tech-Death, before returning to that semi-experimental elegance. Another blackened eruption flows, another excerpt of sludgy grooves, another moment of intoxicating tremolo-led Drone, you know; a whole concert of rage and subtlety. Remarkable too are the fine female voices (not of the operatic kind, yet still classically-skilled) towards the end, adding a level of mystery and mystique.
The album ends with Hollowed Souls (5:25), also starting in an acoustic way (acoustic guitars, fairylike synths and striking drums / percussion). It has an epic Folk-alike attitude, yet seen from a darkened angle. Of course, the peaceful experience gets soon interrupted, brutally, by another Death Metal assault, with hammering drum salvos and mean voices. Yet soon, all this gets injected once more by acoustic passages with dreamy female vocals, interacting with turbulent pieces of blasting energy. The use of keyboards too is so well-thought, covering the nastiness in a veil of drama somehow. Hey, with 'drama', I do not refer to some grotesque theatrical façade; I'd rather speak about a transcendental finesse instead.
https://verwilderd.bandcamp.com/releases
https://www.facebook.com/VERWILDERDMUSIC
https://www.youtube.com/watch?v=p9A9IhZCSek