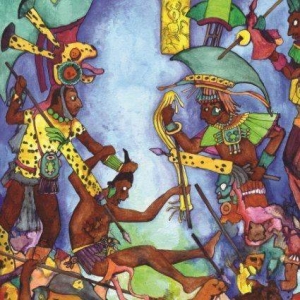 Release Date:
Thursday, December 24, 2015
After one full album and several split-contributions, Volahn, one of the many projects by Eduardo Ramirez, returns with a second full studio album, called Aq'ab'al. This six-tracker 'symbolizes the earthly dark spaces & those within our own consciousness'. The title stands for the place of rebirth and transformation, a re-generating power, based on the Mayan mythology and beliefs, a returning source of inspiration in many of Eduardo's projects.
Aq'ab'al got released on tape and the digital way via Crepúsculo Negro [*], on CD through Iron Bonehead Productions, and on vinyl (2 x 12") via the very same Iron Bonehead label and The Ajna Offensive.
[(*) most projects Eduardo is involved with, are on this Californian label, sort of gathered under the banner of Black Twilight Circle, paying tribute to the roots of the ancient Mexican tribes, such as the Mayan and Aztec heritage - ivan]
On five of the tracks, Eduardo was assisted for the drum parts by two musicians he shares some bands with, Juan 'Murdunbad' Cabello and Daniel 'Kampilan' Tia (some bands / projects they share: Blood Play, Kuxan Suum, Acualli, Dolorvotre, Shataan a.o.).
In general, Volahn stand for a fast'n'furious form of extreme, highly technical and intense approach of timeless Black Metal, yet with quite a modern approach. At the same time there is a nasty aggression in performance, as well as a subtle atmospheric approach in counterbalance to the forceful, merciless execution of the violent performance. Speed-up parts get interchanged with some progressive intermezzi, yet since these pieces are quite lengthy, one might, and will, expect quite some variety in extremity, melody and atmosphere. Do not underestimate the importance of the (semi) acoustic passages that may not be as brutal as the heavier parts, yet sometimes, probably, even more suffocative and ominous. This element for sure is a surplus, because the overall intensity I just mentioned can surely be 'too much' if only because of the lengthy duration of the songs.
Actually, I wonder if the equilibrium in between the harshness and fury of most passages, and the few tranquil passages, are enough to convince the 'true' fan of the scene. Okay, contradictious stuff like the outro on Bonampak are what we do need to maintain attention, but this time it might not be sufficient, I am afraid.
For sure the guitar efforts are unique, of an unequally quality when talking about the lead riffing, the tremolo soloing. Desirable too is the massive, monumental rhythm section, with simplistic yet truly forceful drum patterns, splendidly supportable bass riffs and enforcing guitar rhythms. And many will not dislike the sometimes echoing, almost punkish-shouting vocals either. But I for myself am not totally convinced this time. I do not ignore the supremacy of song writing and execution, but I do miss an inherent conviction. Despite some colleague-reviewers, I do not recognize the 'evident' (???) comparisons to the likes of Darkthrone (at all!). But I will not deny a certain comparison to that early scene either, for both epic and Nordic styled tradition might be part of this effort too – at least distantly.
Anyway, Aq'ab'al is quite a difficult album to digest that needs several listens to get through. I think… nope, it's up to you, dear reader / listener, to find out…