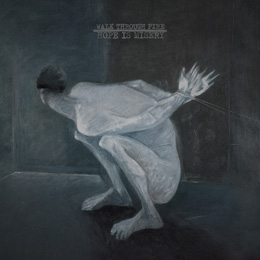 Sometimes you get confused for a reason you didn't expect. This was the case, for my concern, when receiving a copy of Walk Through Fire's Hope Is Misery. Reason? That crazy artwork, for Odin's sake… I'm not sure if I like it (I think I am not truly a 'fan' of this kind of visuals), but it surely focuses on depression, pain, dejection, prostration and hopelessness (taken from the collected works of Cihat Aral).
This Swedish act was formed in 2008, and after an untitled demo, they could sign to the great Aesthetic Death roster, resulting in the 2011-album Furthest From Heaven. After several changes in line-up (and musical direction + cancelling several live gigs / tours), the band (now with Misteltein / Fall Ov Seraphim's Juliusz) finally returned to the studio in order to record the second album for this label.
This third studio recording in the band's history (as said, they also self-released an untitled and instrumental demonstrational piece in 2008), called Hope Is Misery (title goes well with the artwork, and for sure with the aural expression), lasts for almost eighty (!) minutes. And opening piece Sustained In Grief immediately shows the band's scarred and ugly face, by bringing mostly grim, rusty and pounding Sludge-laden Über-Doom. It's slow and minimal, distorted and crusty, but it might drag you downwards abyssal depths of the mind. This introductional piece lasts for more than seven minutes and it might scare off the unadventurous listener. That's cool, I think, for this material isn't meant for the weak-hearted. Things are getting clearer when the album continues with the title track. This one too, and that goes for all compositions on this recording, is based on massive yet repetitive and nihilistic guitar lines and minimal drum patterns (very much in the vein of legendary Necro Schizma), noisily executed and drenched in a crushed cocktail of despair and hatred. Then vocals join in to make the whole experience sound even more happy and joyful: gurgling and blood-spitting, sulfur-breathing screams and grunts. Towards half of the track, a semi-acoustic intermezzo destroys any sparkle of hope that might have been left, once again performed by totally minimal, nihilistic structures and melodies. And when it comes to the definition of 'melodies', well, actually in this case it's a rather amorphous form of it. Oke, some parts of, for example, Waking Horror, do have melodic structures in its purest meaning, but most of the time it's rather of the deconstructive, chaotic kind.
Within its specific genre, Walk Through Fire's Hope Is Misery isn't exactly the best thing ever. I do enjoy the album, but I think there are some better ones around (and worse too, let's be honest). So I guess this material will be meant to please the hardcore-fan of the genre. Especially the exaggerated minimalism and the limitation of variety (and no, I am not craving for experiment or progressive attitudes, but I am referring to little more diversity in between the compositions, especially seen the huge length) might bother some. Especially the little boring outro Laid In Earth is rather a turn-off. Anyway, if you do appreciate stuff in the vein of, let's say, Beneath The Storm, Downfall Of Gaia, a slower His Hero Is Gone, Grief, Sourvein or fellow countrymen Black Demon Rites, you might give this a try!