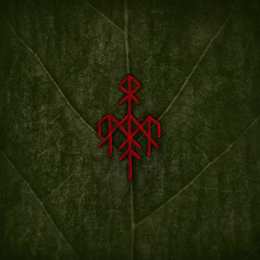 Norway has always been one of my elected countries when it comes to so-called Nordic-styled Black Metal, of course, yet also when talking about whipping, possessing Traditional Folk Music. I'm not only referring to, for example, some of the project done by Black Metal artists (like Darkthrone, Satyricon, Windir with a couple of folkish side-projects), even though, when introducing this band, I have to refer to the Norwegian Black Metal scene as well. This because, besides Linda-Fay Hella, Wardruna consists of two well-known musicians from the Norwegian Black-scene, i.e. vocalist Kristian 'Gaahl' Espedal, known from e.g. Gorgoroth, Trelldom, Sigfader, Gaahlskagg or God Seed, and band leader Einar 'Kvitrafn' Selvik, involved with e.g. Jotunspor, Sigfader, Bak De Syv Fjell, Det Hedenske Folk or, as guest / session musician, Gorgoroth, Dead To This World, Sahg etc.
One can mention the instruments used: traditional and unusual, like mouth harp, horn, lur, different types of drums and harp, as well as non-instruments (the sound of Nature, i.e. trees, wind, water, falling rocks, burning fires).
One can refer to the poetic attitude: traditional Paganism, natural / traditional purity and poetry, historical pride and tradition.
Maybe you want to think / talk 'bout the richness is atmospheres, balancing in between Wongraven, Bathory (Hammerheart / Twilight …-era, but without the Metal-elements), The Moon Lay Hidden Beneath A Cloud (indeed), a non-metalized Melechesh, and Temnojar…
Or you might consider the wide yet, at the same time, limited interaction in between Ambient, Folk, shamanistic chants, traditional elements and Neo-Folk-Industrial.
But in each case you will turn up to this great, grandiose Norwegian act! Absolutely one of the best (at least: one of my favourite) ambiental Folk projects ever! And for sure one of the best recordings within this genre since immemorial…