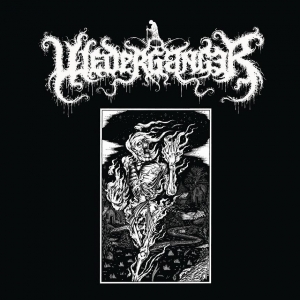 Release Date:
Saturday, November 1, 2014
Out of nowhere Wederganger arose, reshaping the Dutch underground. Former and current members of notorious acts like Heidevolk, Fluisterwoud, Botulistum (rip), Dimensional Psychosis, Blackleaf or Weltbrand joined forces in order to create two pieces of Gueldrian Undeath Metal, which they independently released on tape in very early 2014. At the end of that very same year, the material got re-released on vinyl (Daemon Worship Productions) and on CD (Heidens Hart Records). And about completely in the vein of the other bands the members are / were involved with, Wederganger (a kind of word-play, meaning something like a person who walks again, aka again-walker) express their lyrical world through their mother tongue, being Dutch. Gelderse Drek means dung from Ghelderland, a province in the East of the Netherlands at the border with Germany.
Both the title track (4:22) and Vlammesvonnis (7:04) stand for an epic, rhythmic and pounding form of rather traditional Black Metal, with both slower and faster passages. For sure the basics are rooted within the trend of the earlier nineties, including the Pagan / Viking majesty that did sort of characterize quite some bands from that era. The title track also contains that specific thing -I cannot really define it in human language- that got sort of expressed by a certain sub-current in, especially, Norway, with bands like Tulus, Gehenna or Khold coming to mind. Vlammesvonnis then again is much slower and catchier, and this track truly expresses the origins of the members. Instrumentally there is quite some bathorian (or is it bathoresque) grandeur at the one hand, and trans-European power as well (especially towards the end, when everything suddenly turns faster and more energetic).
FYI: in mean time Wederganger unleashed their debut full length, Halfvergaan Ontwaakt, via Ván Records.