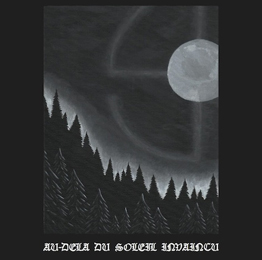 Album Title:
Au-Delà Du Soleil Invaincu
Release Date:
Saturday, September 27, 2014
Weisshorn is the solo-outfit of Swiss guy K.M., named after the so-called mountain (I think). Apparently this project was originally called Winkelried, but somewhere in 2012 the current moniker was chosen. The sole recording / release until now is this one, Au-Delà Du Soleil Invaincu, a four-tracker (sixteen minutes of length), released under the protective and highly interesting (Aryan-Helvetic) wings of Asgard Hass.
After a short and untitled introduction, based on brave acoustic guitar riffs and some natural background sounds, the title track tells us what Weisshorn stand for. The song brings a rhythmic and fast, energetic and powerful form of trans-European sounding Black Metal. It has a specific old styled approach, yet not of the over-hyped Second Wave-kind. On the contrary; the somewhat weird riffing and decelerated rhythm section, as well as the brain-piercing screams and lots of breaks and changes in tempo, melody and structure, make this an aural experience which might seem hard to digest.
Each single track is a true experience, with the different (yet cohesive!) elements. There is quite some variety, but one cannot ignore the grandiose sound quality either. That's one of the surpluses of Au-Delà Du Soleil Invaincu, for holding the middle in between organically well-polished and old styled rough.
A final word about the lyrics: in French (there are four official languages in Swiss, and French is one of them, being spoken in the western departments (cantons) of the country), and dealing with national pride and honour. Who can blame them?...