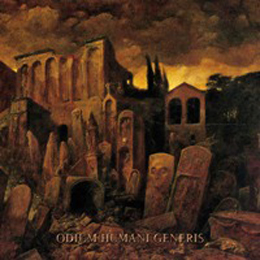 Dutch horde Weltschmerz was formed in 2009. Shortly after, the band recorded and self-released the EP Cry For War, and in 2011 they appeared on the four-way split Dutch And Canadian Annihilation (released via Zwaertgevegt). Now they finally come up with their debut full length, Odium Humani Generis via Flemish top-label Immortal Frost Productions (the tape-edition, FYI, will be released once again via Zwaertgevegt), an eight-tracker with both old and new material, having a total running time of forty two minutes. With exception of the drum parts, everything has been recorded, mixed and mastered once again by one of the founding members, Michiel 'Hræsvelg' van der Werff.
Hræsvelg (g, b), Eitr (g), Valr (d), and Hreim (v) bring a rather traditional form of Black Metal, yet of a mostly angry kind. The album opens with Ab Æterno, a piece that has both fast, aggressive parts as well as slower, haunting ones (and one of the few newly written and created ones on this record). And it gives a perfect impression of this band's qualities. Weltschmerz are one of those combos that easily create an atmosphere so grim and morbid, necrotic and brutal, without denying a certain epic and melodic basement. Ending Your Life, initially written for the 2011-promotional mini-album (all tracks from that promo appear on Odium Humani Generis, by the way), is comparable but, at the same time, different for being more obscure and melodious, coming closer to the great Nordic approach from the Second Wave-trend. Of course you can expect the use of acoustic guitars (cf. None Of Us Will See Heaven, one of both songs that appeared on the split I mentioned in the introductional paragraph; and for your information: Weltschmerz's other hymn on that four-band sampler, Asmodeus, is on this debut full length too, yet with different lyrics).
This is one of those bands that do not need to be original or renewing, and I am glad to notice they still do their own thing. Each single piece on this album, whether it's an older or newer composition, is a nice eardrum-satisfier, because of a great performance, the necessary variety in speed, and the unpolished production. A word be said about the latter, however. The sound might be little too dull and foggy. Yet still, this stuff is highly recommended if you are 'into' bands like Gorgoroth, Dark Funeral or Carpathian Forest.