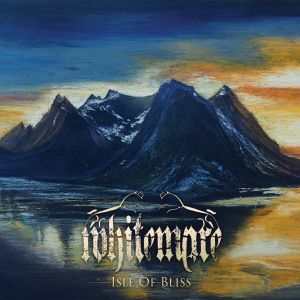 At the very end of last decade, Swiss vocalist (and keyboardist) David Genillard aka D.G. (known from his collaboration in e.g. Nightshade, Sic Semper Tyrannis or Duthaig) decided to start a new outfit that dwells within spheres of traditional Doom-Death Metal. He joined forces with string-master J.G. Arts (here active as J.A.), who you might know from his notorious Doom-act Doomcult (the Netherlands). They wrote several tracks and entered the studio, soon accompanied by drummer Thomas 'T.W.' Wacinski, D.G.'s colleague in e.g. Nightshade or 3 Days Of Silence (ex).
Baptized as White Mare, this triumvirate finished their debut Isle Of Bliss, inspired by Homer's Odyssey especially. It was mixed and mastered by J.A. They were joined by some guests, by the way, amongst some involved with Duthaig. For the physical release (and partly the digital one too, evidently), they signed to Symbol Of Domination Productions, this time in conspiracy with Negre PlanY. The compact-disc (in a 'regular' jewel-case format) is limited to five hundred copies, coming with a twelve-page booklet. The stunning cover art was created by some Oriane Binggeli, with the general lay-out taken care of by Rayan Tengblad (also active in Duthaig, by the way) and D.G.
Isle Of Bliss clocks more than three quarters of an hour and brings quite 'traditional' Doom-Death with a melancholic edge and a funereal attitude. The lengthy hymns (from six to twelve minutes of length) mainly consist of the classic ingredients: hypnotic leading riffage, with varying, often rumbling and pounding drum patterns, moody string assistance, semi-acoustic intermezzi, orbital keyboard-lines, immersive solos, you know, that which characterizes this scene in its bare essence. It sort of means that the basic structure isn't renewing. Well, no, it is not at all. Those searching for originality better skip this material. But if you do not care about distinctiveness, yet rather focuses on quality, then you will be into it as from the beginning.
I mentioned that orthodox approach. Well, there a couple of elements that ignore the rules of conventionality, but the habitual execution is of a high quality. It's that simple. The song-writing is deep-thought, the performance impeccable, and the sound-quality of high-professional level. When observing that production, one cannot but admit two crucial elements: the mix and the sound. That sound is very decent, well-polished and pure, yet still perpetuating the grim message of the concept (joy and happiness, as you can guess). It's rough but not crude, and lucid yet not twinkling. Besides, the different instruments / vocals are well-balanced, for the mix pays attention to both the leading section as well as the rhythm fraction.
Two thing are remarkable, and for a tiny moment even differentiating White Mare's stuff from most other bands within the scene (even-though it is not totally new or idiomatic): the vocal timbre and the use of piano. In contrast to most acts, the voices here are not of the deeply-growling, long-stretched, thunderous kind. The voice of D.G. is rather raspy, almost blackened, instead of being a (predictable) grunt. It gives the whole a bleak and tragic character rather than a damned one. That's a nice aspect for sure. That other thing, that piano-play, well, it is not renewing either, of course, but the frequent use of it is remarkable and typifying.
Recommended if you can appreciate the likes of Shape Of Despair, NovemberS Doom, Shattered Sigh, Saturnus, Evadne, Doom:vs or Mourning Beloveth.
https://whitemaredoom.bandcamp.com/album/isle-of-bliss
https://symbolofdomination.bandcamp.com/album/sodp152-white-mare-isle-of-bliss-2022
http://satanath.com/sodp/item/sodp152
http://www.paura.cat/ca/negre-plany/3523-white-mare-isle-of-bliss.html
https://www.bloodfirepromo.com/noticia/720-negre-plany-edita-isle-of-bliss-el-debut-de-white-mare