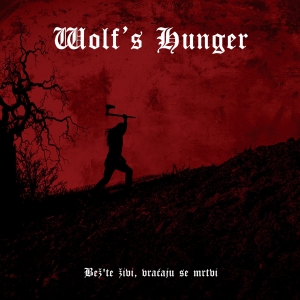 Album Title:
Bež'te Živi Vraćaju Se Mrtvi
Release Date:
Friday, September 9, 2016
Wolf's Hunger are a Serbian band that was formed at the end of last century, although it was under another name. the band did split up soon after, but they returned, now as Wolf's Hunger, in 2002. The band recorded some demos and a split with fellow countrymen Posmrtna Liturgija (2005, Grom Records), soon after followed by a first full-length album (Retaliation In Blood, 2007, once again via Grom Records). then the band did split up once more.
Apparently they reformed in 2009, almost one decade ago, but there was nothing exceptional going on, except for some (local) gigs, I think. At the end of 2015 they started recording new material at the Piknik Studio, with producer Miroslav 'Mr Bandar' Majkić (known from e.g. Horror Piknik and other projects with Goran 'Biške' Biševac). Then they signed to Symbol Of Domination Productions and now we can, finally, enjoy a second album by these Serbians. The jewel case compact disc comes with an eight-page booklet in an edition of 500 copies.
Despite a new line-up, Wolf's Hunger sort of go on in the vein of the past. Their timeless Black Metal is fiercely Thrash-injected, almost Teutonic in heaviness, and finely attending the equilibrium in between melody and rhythm. The better part is fast, pounding and energetic, with several changes in speed. The rhythms are eruptive and stylistically technically executed. That's cool, for the sound quality strengthens the intensity of this album. Indeed, the production and mix have been done meticulously, which isn't but a positive thing to support this extremely heavy, hammering compositions. On top of it, there is a certain level of variation – I mentioned the changes in speed. Some slower or mid-tempo passages enrich the fecundity of Bež'te Živi, Vraćaju Se Mrtvi (which means something like 'run living, they're going to die' or 'run when being alive, they will return dead'). And a couple of pieces are simply blasting, like a volcano eruption causing a pyroclastic storm. Besides, the band also injects its Music with elements from the Pagan scene, i.e. dynamic, glorious and epic passages that are rather Viking / Pagan / Folk-edged than Thrash Metal-laden.