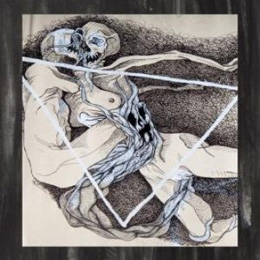 I have always liked what Irish act Wreck Of The Hesperus did in the past. But somehow, I sort of 'lost' them after their split with fellow countrymen Mourning Beloveth. But the Aesthetic Death office did offer us the Light Rotting Out album, so there is no reason not to review this master piece, despite being 'old', i.e. released almost four years ago. It's not because I am such a sweet human entity only; I just think that good stuff deserves what it deserves (if you know what I mean).
Skip the bullshit right now. Light Rotting Out, a three-piece album by Irish act Wreck Of The Hesperus, clocking over forty minutes. It's a pleasure to listen to, yet as well to look at. The lay-out, to start with, is quite attractive for sure. The album got (gets) released in A5-package with four carton cards, and combining the 'less-is-more'-trend with creative craftsmanship (and it has been issued on vinyl too, via Streak Records – FYI). But actually, what this trio brings, that's what this album's core deals with – or am I mistaken? The stuff was recorded at the Banagher Caves (with exception of the drums and the guest vocals), and mastered by no one else but Esoteric's Greg Chandler for the CD-edition.
What this album stands for, is a mixture of blackened Ultra-Sludge and massive funereal Doom. It sounds quite strange, especially with the echoing growls and the prominent drum patterns in mind. Also the slamming bass lines, the colossal guitar riffs and the skin-scraping sound quality make this piece quite uncomfortable. And besides, despite the long duration of the three pieces, there is quite some variation, keeping the listener attentive (almost) whole of the time. Or better: it's the same sh*t whole the time, time after time, but it has been written and performed so ingeniously, that it looks (sounds) like a whirlwind (a very lazy one) of mathematically incorrectly decelerating structures. It's like the first Unearthly Trance-album mercilessly reconstructed by Alkerdeel, like an Esoteric-piece un-sweetly re-arranged by Goatlord, or like the unholy bastard child of Snailking and Primitive Man.
One more thing that might interest some: Albert Witchfinder appears as guest on the second part of The Holy Rheum, Hologram Law.