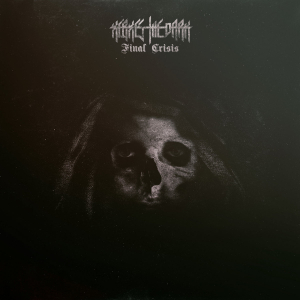 Only a couple of days ago, Xerxes The Dark and the pretty young label Zāl Records (both of them are closely related) did release the newest Xerxes The Dark album Soundtrack To The Blind Owl, but now I'll focus on its predecessor, being 2020's Final Crisis.
The project itself does not need any introduction, I guess. It's the brainchild of Iran-born artist / musician Mohamad 'Morego Dimmer' Reza, who's very active within the Ambient / Experimental / Electronic / … scene; think about other outfits like Morego, Ostanes or Nyctalllz, his activities as producer at the DIM Studio, or his involvement with labels like Zāl Records, Ovnimoon Records or Bass Star Records. It was an evidence that he appeared with some of his projects on the compilations Persian Experimental Underground 016 Survey and Visions Of Darkness (In Iranian Contemporary Music) (with gratitude to Signore Pezzella).
Anyway, Final Crisis was, of course, written, recorded, produced and mixed (and mastered too, eventually) by the artist himself at his Tehran-based DIM Studio during several recording sessions in 2019 and the first half of 2020. The result is a collection of nine lengthy sonic compositions, having a total running time of over seventy (!) minutes. It's a digital release; to be honest, I do not know whether there is a physical one too. It comes with stunning artwork, provided by MRG Photographics – and indeed, that too is totally courtesy of Mohamad…
Those trusted with Mohamad Reza's aural outlets do know that Xerxes The Dark for sure is the most intensive, heavy, obscure and eerie project by this guy. Final Crisis smoothly follows that trend of pounding, abyssal and apocalyptic bruteness. As from the opening sequences of the first chanson, The Hiding (Alternate Edit), you'll experience that gloomy, asphyxiating mixture of ominous synth-work, psychedelic Field Recordings and both spacious and haunting noises. Thunderous drones, demonic voices, layers of industrialized demolition, repetitive electronics, psychotic waves of pure bleakness / blackness, ambivalent soundscapes; a whole range of morbid and tormented elements gets canalised into one monumental yet burdensome sonic adventure.
The whole album continues that way, yet seen the length it needs endurance and persuasion. But it is worth it for sure. It translates the concept of a parallel universe, a sci-fi story focusing on mistakes done by mankind, defining humanity's ignorance and arrogance – a fatal combination. Einstein's quote 'two things are infinite: the universe and human stupidity; and I'm not sure about the universe' here gets reinterpreted by that story of man's wish to experiment in combination with the fact that playing for a god does not work, and will end fateful, lethiferous (quote from the artist: 'it's about a fatal mistake made by mankind in quantum entanglement experiments that is followed by a diffusion of antimatter from a parallel world'). Once two opposite realities morph and interact, the termination cannot be stopped anymore.
[PS: make sure you read the ill-omened story behind the concept on the artist's Bandcamp page and let your fantasy float free into desperate and immeasurable dimensions]
Somehow you do feel, experience that irreversible path the human being took, a path that leads to the void where no light, no life, no salvation dwells. The atmosphere on Final Crisis is almost unbearable, it suffocates, creating claustrophobia, paralysis, primordial fear, mental distortion and, at the same time, surreal imperturbability and total resignation (proving our lack of wisdom). There is a permanent tension, a continuous confusion, creating discomfort yet, at the same time, intrigue. This is where matter and antimatter recreate and malform what our reality was made of. The use of (sometimes weird and unusual) samples (based on current society and daily life), crackling and mechanical statics, found sounds and field recordings go well with the cinematic keyboard manipulations and percussions, resulting in a remarkable balance in between chaos and disorder at the one hand, and structure and sangfroid at the other. Or what about the stunning equilibrium of microscopical (for this word, I got inspired by the black holes, haha) and scientifically / surgically precise details within an immense journey through secret dimensions. Eye for detail is a surplus within Xerxes The Dark's music(k)al universe, and with Final Crisis this gets stipulated once more. This album is another recommendable wall of deep-dark Drone / Ambient / Industrial Apocalipsis…
https://xerxesthedark.bandcamp.com/album/final-crisis-24bit
https://www.facebook.com/zaalrecords/
https://www.concreteweb.be/reviews/ugasanie-xerxes-dark
https://www.concreteweb.be/reviews/alphaxone-xerxes-dark
https://www.concreteweb.be/reviews/various-artists-visions-darkness
https://www.youtube.com/watch?v=nrgYgq9FF2g
https://soundcloud.com/xerxes-the-dark/final-crisis-album-preview-mix-zal-records-zal-1xx
https://www.facebook.com/mrg.photographics