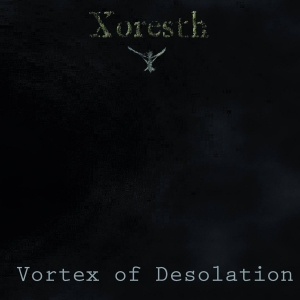 You know, the scene from Turkey has a lot of bullshit going on, but there is some highly interesting stuff out there as well. I am, personally, quite a 'fan' of all bands and projects that involve Emil Togrul, and I do deeply adore acts like Zifir, Cosmic Funeral, Hatevomit, Illusions Play or Valefor, amongst several others. Within this list, you might also find Xoresth, a project formed in 2013. In 2014, they released three splits: one with the Russian tantric ritualists of Phurpa, a second one with Egypt's finest and happiest Frostagrath, and a last one with Blood Ariser. By the way, all of them saw the light via Cvlminis. The very same label also took care of the release of the first yet extremely limited Xoresth full-length, Yeghanku Madde, and now, luckily not that limited, we can enjoy the newest full album, called Vortex Of Desolation.
Vortex Of Desolation was created by multi-instrumentalist Dorukcan Yildiz and vocalist Karahan Karaoglu (both also involved with several excellent bands / projects), assisted by Eduard Utukin (additional voices and ethnic instruments; he hails from the Russian Federation). The three tracks (thirty-four minutes of duration, so expect some lengthy efforts) are released via a collaboration of Israel's The Eastern Front and Ukraine-based GrimmDistribution (acting under the protective wings of Satanath Records), and it comes with a sober four-page booklet, which includes the lyrics of the two first songs.
Xoresth bring, as they say, a sonic outlet of 'Universe Covers Nothingness'. What the H*** indeed! The 'nothingness' thing I can agree with, and I think this explains most of it. Desperation, depression, suicide, hatred, (self) mutilation, confusion and anxiety are keywords for sure, defining their description. It is like a harsh and noisy wall (not of the HNW, aka Harsh Noise Wall, kind, yet still… - something to consider!), mixing elements from Ritual Black Metal, Funeral Doom, Dark Drone, Morbid Death Metal and sludgy Industrial Wave Void Terror Noise Anti-Music (never heard about it before? Well, now you have…), injected by elements from Rhythmic Noise, Black Industrial and Post-Apocalyptic Drone. It collects truly massive, monolithic droning riffs, haunting synth melodies, harsh rhythmic instrumentation, demonically possessed and wretched grunts (and some more bizarre, obscure, ominous and grim vocal timbres), ritualistic percussion, dense and funereal escapades, profane chants, doomed excerpts, dungeon-like atmospheres and so much more, as long as it is bleak, ominous, asphyxiating and negative in every sense. Especially the first two tracks (Illusion Before The Matter and the title track) come with that nasty, destructive character of nihilism and arrogance, while the third piece (Nefes) is rather esoteric and hypnotic in essence, yet with a comparable overwhelming and disturbing heaviness.
But the great thing is that it sounds so fantastic, almost lovely. Yeah, 'lovely', in case abyssal obscurity gets preferred over enlightening relief, hehe. No, seriously, despite the chaotic approach, and amateur of the genre will get aroused by the permanent tension, the increasing suffocating and grim atmosphere, and the transcendental deepness at the same time. In a masochistic way, the discomfort teases and pleases, and in a sadistic way, you want to cover the ignorant crowd with those tunes of negativism until all fade away into oblivion, into nothingness. What if the universe, or at least our world (and the human population especially) was covered, for all eternity, into nothingness. Well, this album is the ideal soundtrack to celebrate extinction and inexistence!
A last word about the sound quality: raw, unpolished, primal. Under-produced? Well, not exactly. Appropriate? Indeed it is! Nothing more to add…
For fans of Ancient Moon, early Void Of Silence, Goatpsalm, Woods Of Belial, Mekigah, Funeral Of God, Khost, Sektarism, The Nulll Collective and the likes…!