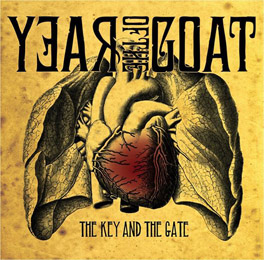 Release Date:
Friday, November 28, 2014
Straddling the line between the soft and the heavy Sweden's Year Of The Goat.  Are slowly turning heads and gathering acolytes. Formed by members of GRIFTEGARD back in 2006, the band released the EP "LUCEM FERRE" in 2011 to a generally positive response? Their sound took the best elements from country mates GHOST and IN SOLITUDE fusing them with a energetic and almost positive rock sound.
3rd EP: The KEY AND THE GATE: the music here is a mix of traditional stoner, heavy metal and hard rock. (Easy on the ears). Year of the goat bring the tonal qualities of a slow-yet-bouncy rock band from the 70's, coupled with riddling technical hooks and some thoroughly deep solo's. "Mystic Mountains" (my favorite on the EP) is clearly where the band demonstrate their strengths at full force, and it shows a flavor of musical dynamism. "Non-Euclidean calculus" is a song full of long low tempo piano work. I don't know what the band was trying to do?? It is not my kind of music!
The title track is a right to the point rocker with pushing drums and a great guitarlines. Year of the goat have written some excellent material here, but they need more of it make a better impression!