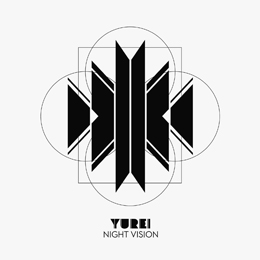 Yurei is one of the projects Bjeima is involved with. Some might know this Norwegian guy from his solo projects Alfa Obscura or The Ghost Conspiracy, his work as bass guitar player in Virus, or his key contributions in, for example, -M-, Delirium Bound or Swarms. -M-, by the way, will release a full length through this very same label, Norwegian / Belgium co-operative Adversum, in a couple of weeks / months.
Night Vision goes on where 2010's Working Class Demon left off, yet the whole has heavily progressed from the initial approach. Prog progressing into more Progressive Prog? This can't go well?
And indeed, it does not work. My main problem is the comparison to the works of Dali. I'm a huge fan of Dali (I even went to, for example, Berlin to visit a Dali exposition a couple of months ago), but Night Vision is NOT a sonic translation of this master's works. …at all… This isn't aural surrealism, yet rather an avant-garde edition of expressionistic eccentrism, to keep it pictorial defined.
Of course I cannot deny my un-love for pubic Prog Material, yet even while trying to write my reviews as objective as possible (I can't remember having been destructive while reviewing material of, for example, Vintersorg, Control Denied, Unexpect, Borknagar etc.; I even tried to be nice while writing my opinion about Diagonal's latest record (see the update on December 9th 2012 in the archives section); and one cannot ignore my modest passion for Ozric Tentacles or Zorn), but in this case I do not get horny at all.
But at the same time: the album gets better towards the end. The second part surely is much more interesting than the first songs are, and I might even pronounce a very limited, modest and quasi-hidden expression of appreciation for a couple of parts at the end; Ditt Monument for sure is such a relief.
Forty three minutes wasting most of my time, unfortunately, with some moments of almost-being-into-it…