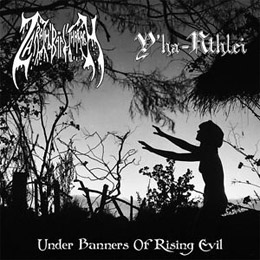 Album Title:
Under Banners Of Rising Evil
Release Date:
Wednesday, October 1, 2014
When I saw that there was a split in between Zarach 'Baal' Tharagh and Y'ha-Nthlei, I experienced some form of happiness, I think. I know that happiness is an emotion that can't kill you, but still I was shocked. Was it good? Was it bad? Did I need to see the psy? Anyway, soon I returned to reality, hailing blasphemy, misanthropy, anger, desolation and melancholy, but deep inside me there was a voice crying out: 'thank you, Nitroatmosphericum, for this present'…
Actually, further investigation taught me that this split had been released on tape in 2012 via Russia's Zombi Records, yet in a very limited edition. But Nikolay from Astarium, who runs Nitroatmosphericum, was so kind to have it pressed on CD in a larger number of copies, 222 to be more exactly. It comes with different artwork, by the way.
---------------------------------
First act presented is French Zarach 'Baal' Tharagh, one of the many, many, many outfits by Luc Mertz. He is or was also in Impostüre, Occult Vomit, Black Sheep, Skullface or new outlet Docteur Z, amongst tens of others. With this solo-project, Luc recorded uncountable things: more than one hundred demos (no kidding), tens of splits and tens of compilations. That has now come to an end, since Luc announced the end of Zarach 'Baal' Tharagh (what a pity). But in each case, there is a lot to enjoy, amongst which this stuff.
The five 'songs' on Under Banners Of Rising Evil are taken from the 2001-demo Pure Evil Black Metal, so they are not new, unfortunately. They have been re-released before on compilation recordings, by the way. It might differ from what this project brings as from a couple of years ago, but it does contain the very same nattiness, evilness, grimness. The chapters stand for a hysteric, neurotic, psychotic and schizophrenic mixture of blackened Noise and noisy Black Metal, utterly raw and violent, sordid and apocalyptic. You need to hear it before you understand it, and even then it's hardly acceptable that this kind of Aural Torture is legal (it's rather 'lethal' than legal). But in case you are somewhat sado-masochistically in nature (no matter if it's the sadistic or the masochistic side of the game), you might adore this nihilistic and no-nonsense Sonic Terror.
---------------------------------
The second project on this split is Y'ha-Nthlei (once again, hello Lovecraft…), not the Italian Funeral Doom-act, but the Russian one-man band. The mastermind behind this project calls himself after the Lovecraft-character Randolph Carter, by the way, so you might have a clue about the lyrical approach, don't you. There was a first album in 2012, called The Night Opens On The Brink Of The Abyss (via Satanarsa) and the EP Wandering Of Alhazred (Nitroatmosfericum, early 2013), and in mean time Y'ha-Nthlei did release another EP too.
Y'ha-Nthlei come with three new compositions, which were recorded and mixed during Spring 2012. With some open-minded fantasy, there are quite some parallels in between both projects, but this outfit sounds rather experimental than the French contribution to Under Banners Of Rising Evil. This stuff is more distorted, droning and much more industrial-mechanical-maniacal (can you believe this: 'more maniacal' than Zarach 'Baal' Tharagh???), and with some goodwill you might detect sweet comparisons to Abruptum – which undersigned cannot but adore / appreciate! But it might be even more frenzy and psychotic than that Swedish Kult-act. And in any god's name, what inspires this guy to rape O Fortuna (the best known excerpt from Orff's Carmina Burana) so mercilessly?
---------------------------------