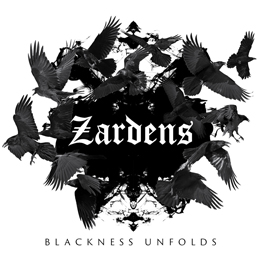 Satanath Records' head commander Aleksey let me know, a couple of weeks ago, to look out for some auditive quality from my home country, i.e. Vlaanderen / Flanders, eh, I mean Belgium. And indeed, Zardens are the first Belgian band on this superb Russian label. Actually, sub-label SODP had some stuff from right here in a recent past (Scum Noise and Vox Impia), and in mean time also Angakok signed to Satanath. But first things first, and that's Zardens with the Blackness Unfolds full length.
The band was formed by former Moribund and Ex Delirium member Warnacht, and in 2012 the band released its first album, called Breeding The Dark. Shortly after, guitar player Warnacht started working / writing on the second album, but because of line-up troubles, things didn't turn out the right way. Eventually, the album was finished with assistance of vocalist / guitarist Pascal 'Svardath' Moreaux (also from Moribund, as well as, for example, Helgrindr, Ornaments Of Sin, Lost Amor or From Beyond), drummer Oli (Mental Vortex) and bass player Fred Kienen (also ex-Ex Delirium). And now it gets released via Satanath in co-operative form with sort of 'reborn' label Death Portal Studio from Colorado.
Blackness Unfolds actually isn't such a grandiose album, because it is way too clean, too polished, too over-prepared. In the first place this goes for the sound. Indeed, the production is clinically correct, and I think it denigrates the hot-pepper-in-the-ass-effect. Rawer edges might have strengthened the anger and aggression behind the whole experience, I think. Besides, I think the whole is way too safe in song writing and performance, and therefore too predictable too. The introduction Battle Rite, for example, is such painful mistake. Further on the whole is based on riffs, rhythms and structures that aren't that far away from the Swedish scene especially, with Dissection, Lord Belial, Naglfar and the likes coming to mind. Also elements from Norway and Poland are pretty obvious; the latter especially when talking about the faster, behemothish passages, the first one when experiencing some of the groovier excerpts.
Damn, this is quite a negative paragraph I just wrote. Does it mean that there is nothing positive to tell about this album? Well actually, there are lots of pros too to mention. In the first place it's the craftsmanship and professionalism of the members involved that strikes me. All of them have a 'history' within the Extreme Metal scene, and that shows. Each of them know how to handle their instrument for sure. Also the cohesive equilibrium (which is the good side of the exaggerated-clean mix) gets to its peak throughout almost each single track. And despite the lack of originality (which isn't such a 'problem' normally in case of undersigned), elements like the huge variation, the cool solos and the fine balance in between melody and energy, are details that might make this album pretty acceptable though.
Conclusion: I'm suffering from some double-bind feeling right now. A couple of times this album caresses my eardrums with bleakest nastiness (my masochistic half adores this), then again I'm disappointed by the evident progression of some specific pieces. Though, I am sure this album will surely find its way to quite a huge interested audience. The score beneath is purely undersigned's personal opinion and I can stand the fact if you do not agree. But you know: [self-censorship…]