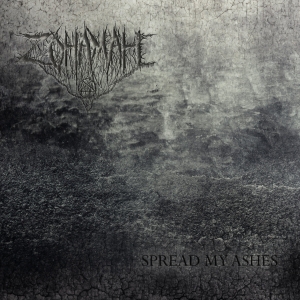 I admit that I had not heard of Zohamah before. Apparently it is an outfit by Hezi Menashe, whom you might know from his collaboration with Folk / Pagan band Romuvos or Death Metal act Spawn Of Evil. In 2018, Zohamah independently released the digital EP Manic Depression (and a one-track single), and now we have the first 'full' length (nearly half an hour of duration), which is called Spreading My Ashes, and which includes a reworked version of that digital one-track release from 2017.
Spreading My Ashes, clocking 29:47 (as mentioned before), gets released via digital sources (Bandcamp of course) and on compact disc via the quite young Ohio-based Extreme Metal label Redefining Darkness Records. The physical copy appears in an edition of 200 copies (so hurry up!), including a six-page booklet with very sober yet, to my opinion, splendid cover artwork. The album consists of seven compositions, which were written, created and performed by Hezi during 2018.
Oh yes, just for your (futile) information: 'zohamah' is Hebrew, coming from the Kabbalah, and means scum, filth, impurity, pollution, dirt. In the Kabbalah, 'zohamah' is defined as evilness that transforms into a murderous or spiritually destructive form. Yeah, sweet scum, dear filth, lovely impurity, gentle pollution, adorable dirt… Zohamah to you all!...
No, seriously, Zohamah bring something truly convincing, though overpowering, intensive and suffocating. With Spreading My Ashes, we experience a dense and intense mixture of Black, Death and Doom Metal – yes, this is a generally defined description, but hey, I just want to make a point, okay – with a truly morbid, obscure and sinister approach. Impressive is the fantastic equilibrium in between melody and technicity, and the great variety in tempo. When I come back to the first, that balance melody – technical execution, I am referring to what follows. At the one hand, especially the string session is highly melodious in performance. The electric and bass guitars are entangled into a somewhat epic and 'floating' melodicism, based on hypnotic leads, mesmerizing guitar parts and intriguing bass lines. Especially within the slower parts, this approach reaches the top. But the faster parts, including some blasting outbursts, follow a same-minded direction. And several tremolo leads (an example: Emptiness) accompany the listener to vast dimensions, beyond dreamlike spheres of post-conscious infinity (damn, I'm getting philosophical once more…). But it is a cool thing to notice that Zohamah's performance has that subtly technical ingenious approach too, okay, this is not high-tech or progressive material, but it stands far away from primal nihilism too. Hey, I do not mind a minimal approach, but in this case I like the crafted song writing and ditto execution. Listen, for instance, to the Doom monument Black Cloud, amongst others, to verify that grandiose balance of technically skilled structures, a melodic basement, and a well-composed complexity of tradition and progression.
The production of Spreading My Ashes is quite intense and powerful, and the result turns out to be extremely sludgy actually. On top of it, the mix is one of the most professional ones I've experienced in years. No, that's an exaggeration, but at least in months. Or weeks. Days?... Never mind, it is beyond expectation, and I adore the fact that all, and I mean ALL, instruments (vocals included, evidently, if you can agree to call them an 'instrument' – why shouldn't you anyway) are equally represented.
So, in conclusion, I guess that every open-minded adept of darkened Metal Of Death / Sludge / Black / (Funeral) Doom Metal will appreciate this effort. And okay, some pieces are more blackened, then again focusing on Death Metal aspects especially, or finding inspiration within Morbid Doom Death Metal, but despite this amalgam of inspirations and influences, the result is cohesive and monumental. Highly recommended stuff!