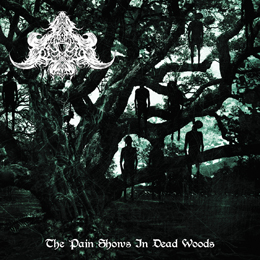 Album Title:
The Pain Shows In Dead Woods
Release Date:
Monday, February 11, 2013
In 2010, Abysmal Depths were formed as Du Temps Perdu, but this Mexican band changed its name into the current moniker in 2012. As Du Temps Perdu, there was a split-album with Astarot, Lux Funestus and Neftaraka (2011, Metallic Media), called Humo, Cenizas Y Muerta…, but this was the sole release under that name. Those tracks, by the way, have been re-recorded for their debut full album under the Abysmal Depths-moniker. In early 2013 the band released that first full length album, called The Pain Shows In Dead Woods, and in September 2013 there was a split via Satanath, called Total Satanic Genocide (with the likes of Nicronomodez, Sereignos and Warmageddon), which consists of tracks from the debut full length. This review deals with the 2013-full length.
The Pain Shows In Dead Woods (fifty three minutes of length) was recorded by former Du Temps Perdu-members Necromancer (b), Oliver (d), and Gonzalo GB 'Astarot' (g, k; involved with Suicidal Years and Alasthor, and the guy behind Astarot; a review on As Leaves Fall will be written by undersigned, and posted on this fabulous webzine very soon) [nowadays Necromancer and Oliver aren't part of the band anymore; the latter did record just a couple of songs that are on this album, not all of them], with newly recruited members Mon (g) and Tortured (v; also in Suicidal Years and Alasthor), and session drummer Abraham, who did record most drum parts (since Oliver quit).
The album opens with an intro, which is composed by Esteban 'Thagirion Lethe' Almaraz (think: Beyond Sanctorum / Legio Tenebrarum) (also the outro was created by this guy). It's a rather short but highly atmospheric, neo-symphonic and melodious piece, bombastic but not exaggerated. As from Entering Your Fucking World on, you hear what Abysmal Depths stand for: pounding slow- to mid-tempo-oriented atmospheric / Symphonic Black Metal, in which the keyboards' role is of undeniable importance (probably even more than the other instruments, vocals excluded). That goes for the whole album, which has a very natural and organic flair. The main tempo, as mentioned, is not that fast, but some tracks contain a faster, sometimes even blasting excerpt, translating the desolate and depressive details in a more extravert and outer-aggressive definition. The outro, by the way, also created and performed by Thagirion, is a desolate Neo-Classical piece, especially done on piano, with inclusion of some thunder-sounds.
Some words about the sound: primitive and lo-fi (that's fine with me), but shamelessly badly mixed. A pity… …does influence my score…