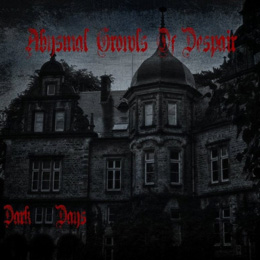 Release Date:
Monday, December 15, 2014
Abysmal Growls Of Despair are a French outfit by a guy called Hangsvart, who formed this project in 2013. Hangsvart is a rather active musician / composer, for Abysmal Growls Of Despair have recorded several pieces in mean time, despite the young age of existence. But who am I to criticise this… I will not!
Actually, this album was originally released on July 11th 2014 by the project itself, being done the digital way, and now mighty, mighty, mighty Satanath Records bring it out on CD too (once again in co-operation with some other labels). That's great, because I wasn't aware of the digitally released edition of this fabulous epos.
Dark Days consists of eight compositions that last in between four and fifteen minutes, with a total running time of almost seventy minutes. And what this project brings is an extremely darkened, minimalistic and primal form of droning Funeral Doom. The album opens with the track Darkest Thought, which starts with a cold, minimal synth scape, before turning into an utterly freezing, ominous and asphyxiating piece of monumentally overwhelming Dark Doom, based on droning rhythms, razor-edgy guitar riffs, abyssal-deep grunts and eerie keyboard lines. And damn, immediately Stijn 'S' van Cauter comes to mind, the Belgian guy behind projects such as Until Death Overtakes Me or Beyond Black Void, amongst others. And believe me (or do not, but I do not care), this approach continues throughout the whole of the album. Okay, Abysmal Growls Of Despair aren't just another project within this specific vein (actually, they are, but not the copy-cat alike trend), but one cannot ignore the comparable approach. Even the tranquil intermezzos, the abyssal growls (of despair) and ambient synth lines are very much in the vein of Stijn van Cauter's main projects.
In general, I guess there is some more variation in comparison to earlier releases, or to higher mentioned comparable acts by Mr. S. Pieces like Tormented Mind go further, much further, which isn't but an honourable surplus! And at the same time, both 'integrity' and 'introspection' are not just hollow definitions, but both of them deeply penetrate the core of this project's essence. I have always been a 'fan' of the guy I just mentioned above, being Mr. van Cauter, and there is no reason to dislike this material whatsoever. I adore Kinstrife & Blood, even though they are not the 'true' Summoning; I truly like Funereal Moon, despite my unlimited passion for Abruptum; etc… So, why wouldn't I pay appreciation to this French act?
The twenty minutes of bonus stuff too are within the very same atmosphere, and therefor highly addictive / attractive to fans of this specific trend. Abysmal Growls Of Despair dwell in a dimension that isn't meant for the 'average' listener (or musician), but within their specific league, thy are winners! Consider it as a 'me like'…