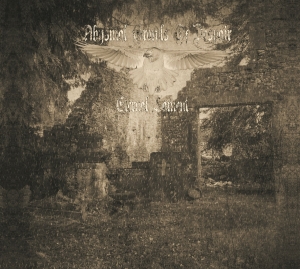 Abysmal Growls Of Despair are a very young yet extremely productive solo-project from Aimeric 'Hangsvart' Lerat, hailing from the south of France. The guy is active under monikers such as Catacombed, Plagueprayer or Low Cave Sound (see update on March 29th 2016, in case you're interested in a review for the Lovecraftian Drone / Noise / Industro-Ambient double-album Voices In The Ground; Frozen Light 2015), but under the Abysmal Growls Of Despair moniker, he recorded two hands full of stuff too in mean time. Amongst them are Dark Days and Between My Death; I do mention both of them specifically, for they got published on April 29th 2015 and December 24th 2015 respectively on www.concreteweb.be. Just FYI: both of them had been released via Satanath Records, with the first one in co-operation with e.g. Silent Time Noise Rec.
The first official recording under the Abysmal Growls Of Despair banner was Eternal Lament, independently released in Summer 2013. So make no mistake, for this review deals with a double-album, compiling more material, amongst which that debut album, which this compilation is named after. The first disc opens with those six tracks from that 2013 record. It starts with an untitled intro, which combines the sound of thunder and rain, with dreamy and floating synth melodies and truly wonderful additional drums. This composition grows and – well, just listen to it and dream away… then comes the title track, and it gives a first glimpse of Abysmal Growls Of Despair's raison d'être. Indeed, this project creates the purest definition of Obscure Funeral Doom Death Metal! Ultra-slow (and I really mean 'ultra' slow) riffs, ultra-deep (and I really mean 'ultra' deep) growls (abyssal growls indeed…) and ultra-creepy (and I really mean 'ultra' creepy) synth melodies are melted into the aural expression of post-life existence, of ghostly appearances from the crypt, of nihilism after all (human) life faded away… Deep-pressed (or is it 'depressed?) Metal drones à la Until Death Overtakes Me get interspersed by nuclear-angelic keyboard intermezzi. One of the success formulas is the permanently presence of dissonance and discomfort that continuously penetrates the listener's brain. Remarkable is that the focus not necessarily lies on desperation and grief, yet rather a mixture of nihilism at the one hand, and overwhelming malignancy at the other. An atmosphere of eeriness and unrest is stronger than melancholy…
The three other compositions on the first disc are taken from the Songs Of Deepest Skies split with Germany's The Cold View, which was released last year via Frozen Light in an extremely limited edition (so one can easily consider this addition as a gift!). Of course the basics flow within the very same vein. However, beneath the surface of funereal discordance lies more of an anger, a tension yet to explode. It's like an all-overwhelming mist of sound that overtakes you, permanently hunts you, like a suffocating nightmare when being fully awake. But accept the ingenious ideas behind the whole concept, for these compositions exhale majesty!
Disc two opens with Nothing More Humane, a lengthy track (17:44) that was independently and digitally released in early 2014, followed by Ci-Gît, which was, just like the former song, an independently and digitally-only release with quite a lengthy duration (just over sixteen minutes), and originally from Summer 2015. Both tracks from the digital EP Monde Agonisant (Monde Agonisant and Always Disgusted) come next. Of course these compositions too dwell within comparable spheres. Nothing More Humane, for example, opens in a mostly ominous manner, as if some lovecraftian entity finally awakes after a thousand-year slumber, crawling out from the deepest Antarctic pit. After about five minutes, this mostly oppressive Industro-Ambient Sonic Terror evolves into the 'trusted' Ultra-Doom Funeral March we're in love with (don't tell me you are not). Just after half of the 'song', everything seems to clear up, as if the sun succeeds to shine on our soil once again. Of course she does not… Ci-Gît or Always Disgusted are much more down-to-earth, with less eccentric outbursts, and mainly focusing on the minimalism and the heaviness of the scene, with inclusion of hordes of dissonant beasts crawling around in the listeners' ear drums (especially the first one out of these two that I mentioned!). Monde Agonisant itself then again is more like a ritual, an invocation in a quasi-narrative way.
The second disc ends with the two compositions that were initially released as part of the In Memoriam split-album with Italy's In Lacrimaes Et Dolor and Until My Funerals Began from Ukraine (a limited album from late 2014 that was released via GS Productions). Nimis Sero opens with a self-interpreted version of the 'legendary' Marche Funéraire (how original…), and at first I am not convinced at all. But pretty soon that introduction gets penetrated by the core of Abysmal Growls Of Despair's raison d'être, and that opens new perspectives, evidently. The second half is quite sober in the beginning, almost like a post-ambient soundscape passing by, before returning to that great epic once created by Chopin. The other song, Quiet Moments, is quite 'traditional' for this project too, though less intense and megalithic than what we're used of.
Pay attention, dear reader: there aren't but 250 copies pressed (and I am sure many of them have been sold in mean time), so you better hurry up in case you want your own hand-numbered copy! And oh yeah: very nice photography / artwork (and no, I am not talking about the grandiose beauty of an unclothed female corpse this time…)!!!