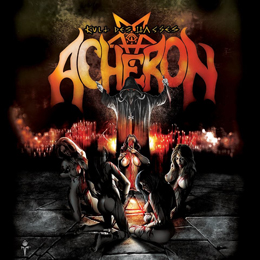 Release Date:
Monday, February 24, 2014
For more than twenty years, Acheron sicken our globe with their own aural vision on humanity and religion, and it isn't a pretty view. Though, from that aural point of view, I need to say it can be very pretty. It is a band I learned to appreciate throughout the years. I wasn't quite enthusiastic during the earliest years (even though I think the debut Rites Of The Black Mass is top!), but I am not sure if it was Vincent Crowley and his horde that stylistically changed, or if it was me who 'grew' into Acheron's musical efforts. But anyway, I am 'a fan' right now. And with this new album, Acheron prove I am not wrong!
Kult Des Hasses ('cult of hate') was recorded at Ohioan Bad Back Studios, and mixed and mastered by legendary Swedish top-studio-guru Dan Swanö. Vincent was joined by his long-time friend and colleague Kyle Severn (drums; also: Funerus, Incantation, Wolfen Society) and new guitar players Art Taylor and Ricktor Ravensbruck (the latter, also known from bands like Wolfen Society, Wolfpack 44 or Electric Hellfire Club, isn't a permanent member, but acts as session musician on this full length), and the album features guest vocals by some of the hugest names within the scene: Kam Lee (think: Massacre, Death, Denial Fiend, The Grotesquery, Skincrawler, Bone Gnawer and many more), Jill (Funerus) and John (Funerus, Incantation, ex-Immolation, ex-Mortician, ex-Profanatica, ex-Revenant) McEntee, Jim Lippucci (of Schnauzer / Soulless / Bloodsick / Domestic Crisis / Decimation-fame), Zdenka Prado (Estuary) and Ash Thomas (known from Estuary, Faithxtractor and, last but not least, Vladimirs).
I don't know if it has to do with me growing old, but the Old School in its purest essence and in its mostly virginal definition has been a constant that gets strengthened over the years. When it comes to a band like this one, for staying 'true' to the roots, I am but enthusiastic. And I cannot explain it, but I do think that Acheron gets stronger and more convincing by each record they release. I did not review the former albums for this site (I think the last thing I did for Concreteweb was 2004's Rebirth: Metamorphosing Into Godhood; I wonder if anyone did review The Final Conflict …, for example?...), but I cannot but come with hands full of superlatives to express my appreciation and admiration. For sure Kult Des Hasses is a monument, a legendary cult-album in nascendence. It goes for different elements: the song writing, the performance, the atmosphere, the production / sound, and the whole mental essence behind it. And it goes as well for every single piece on the album. Each single composition is a result of decades of experience and growth, self-relativation and rechargement.
No clichés, no trends, just essential honesty and purity with a timeless character!