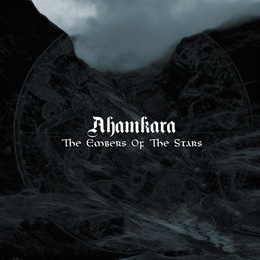 Release Date:
Tuesday, February 10, 2015
Ahamkara are the moniker behind a new UK-based duo, consisting of vocalist Steve Black and multi-instrumentalist Michael Blenkarn. You might know the latter from his collaboration with e.g. The Axis Of Perdition, Phaleg, Wodensthrone or Pulsefear. Ahamkara wrote some pieces in order to perform a timeless and, at the same time, modern form of old styled Metal, based on the essential elements of emotive Doom Metal and melancholic Black Metal, and injected by details taken from the close relationship with Dark Ambient atmospheres.
Anyway, they did put some tracks on their Bandcamp homepage in early 2014, and then they were offered a deal to have this stuff released the physical way instead of the digital one.
And here we have it: the physical album-release of The Embers Of The Stars, a four-tracker that lasts for forty seven minutes. The record opens with Midwinter's Hymn, which starts pretty offensive. A nice guitar riff smoothly introduces fast and fierce blackness with quite some melodious aspects, yet for sure with a focus on epic power. This material is harsh and merciless, especially when the vocals join in. Oh my dear Gods of Life and Death, what a poisonous, sulphurous throat is this! Steve Black's screams are for sure a very characteristic and prominent element for Ahamkara's sound. Instrumentally there is quite some variety. This goes for the speed, evidently, combining lightning-fast outbursts with slower ones. Yet also the structures are pretty differing. That's a good thing because of the lengthy duration of each piece. Sadistic Black Metal eruptions interact nicely with calmer moments, based on Shoegaze, Ambient or Post-Rock.
Indeed, the originality of this specific approach equals zero; since a couple of years, there are hundreds of bands and projects that dwell within comparable sonic dimensions. Some are great, others bore the sh*t out of me. In Ahamkara's case I am neither surprised nor ashamed, with appreciation prevailing on disappointment. And I think it is because of the sound quality too, that I cannot dislike The Embers Of The Stars. I truly like the mix, which creates a great equilibrium in between all players: vocals and leads, bass (sometimes expressing its own creative melody) and rhythm guitars (sometimes the repetitive way, but there's nothing wrong with that), drums and synths (invisibly prominent). And the production is dry and rough-edged, yet without being under-produced.
The lyrical side deals with a personal view on heathen aspects, penetrating individualism, existentialism, nature, life, belief and myths. It's an expression of tragedy, which goes well, of course, with the aural part. Especially with a composition like To Invoke The Stars, this two-man army shows its strength to convince with this vision.
For fans of: Wodensthrone, Fen, early Negura Bunget, early Emperor, Agalloch or Wolves In The Throne Room.