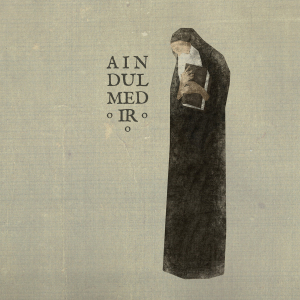 Release Date:
Friday, February 19, 2021
…with some delay; a pity at the one hand, for the physical edition is sold out in the mean-time (a cassette version and one on compact disc, carefully remastered by Simon Heath), but the digital one is still available; and since it is never too late to focus on 'older' stuff of such high quality, even-though I'll keep it concise this time, a few words...
…especially when it deals with truly magisterial material. And that is exactly the case with Aindulmedir, a Swedish project run by no one else but Pär Boström, who's the mastermind behind e.g. Bonini Bulga, Hymnambulae, Cities Last Broadcast, Altarmang or Kammarheit as well.
In early 2019, Aindulmedir released the exciting debut The Lunar Lexicon, which I did define as 'Dungeon Ambient Music'; indeed some symbiosis of Dungeon Synth and Dark Ambient somehow. I was truly overwhelmed by that album, for it sort of captivated and intoxicated at the same time. It made me thrilled to notice that a second effort was in the making. That sophomore release, The Winter Scriptures, is a lengthy successor, 'intended as winter music for bibliophiles and hermits', consisting of 'melodic improvisations and night-time recordings'. Once again, everything was written and performed by Pär, while the mastering duties have been taken care of by long-time partner (professional partner, to avoid confusion) Simon Heath, the guy behind Cryo Chamber (a label that works closely to some other projects which Pär is involved with). It got released on Hypnagoga Press, a modest yet oh so fine label run by Pär and his twin-sister Åsa, who is his partner as well in Hymnambulae. And just look at that amazing cover artwork, courtesy once more by Mister Heath: sober yet oh so aptly embodied.
The Winter Scriptures consists of fourteen pieces, clocking fifty-five minutes. And I think 'Dungeon Ambient Music' is still a plausible description. These melodies can simply be called 'beautiful', for the synth-based stuff creates dreamlike atmospheres of contradictory pleasure: coldness versus warmth, obscurity versus enlightenment, introversion versus sincerity, enigma versus vastness. It reflects serenity in a mostly arcane, mysterious form, expressed via slowly waving, hypnotizing, even intoxicating and meditative sound-structures. Minimal and self-repeating melodies through diverse layers of keyboard digitalization generate a level of semi-levitative transcendence through ritualistic soundscapes (and, additionally, some calm tribal-like percussion in a limited form). Remarkable too is that subtle, even fragile equilibrium of integer mooniness versus outspoken and relatively prolific bombast. It veils The Winter Scriptures in an abstruse haze of spiritual grandeur for sure.
The focus surely lies on an intrinsic old-schooled Dungeon Synth pitch in essence. However, the tranquil, monotone tonality and the softly-injected and multi-layered lenience lift the whole 'improvisation' up to wintery dimensions, transforming the basement of Dungeon Synth into an amalgam that includes sad Winter Synth and melancholic Dark Ambient atmospheres too. It's none of them, and all three together, mingled unto a very specific and unique sound-palette; indeed, once more characterizing this amazing Swedish project. Don't expect an adventurous journey through heroic epics or stories of battlefields and castles, haha, but indulge through chimerical, nebula-covered undulations of Aural Art…
https://aindulmedir.bandcamp.com/album/the-winter-scriptures
https://www.aindulmedir.com/discography/
https://www.concreteweb.be/reviews/aindulmedir