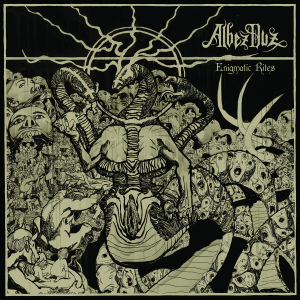 Earlier this century, some members of Black Metal outfit Dies Ater wanted to start a side-project which would rather focus on the essence of Doom. In 2006 they started Albez Duz (which is archaic German for noise of the swan), which was the start of a very interesting journey. Throughout the years, Albez Duz transformed from 'just a side-outlet' to a real band, and their handful of releases were highly appreciated by the international scene for sure. Limited in amount yet great in appreciation, Albez Duz' recordings reached a huge international audience.
And then, suddenly, entering 2019, the band decided to stop all activities. Albez Duz decided to fade away. Yet not in silence and inferiority, not before releasing their opus magnum, their glorious swansong. As a farewell present, the quartet (*) joined forces with Listenable Records one last time, resulting in the release of Enigmatic Rites. That last effort was produced by the band itself, and mixed + mastered by no one else but V. Santura at the famous Woodshed Studios. Once again it comes with quite overwhelming yet cool cover artwork by long-time collaborator Philipp S. Neundorf, who also worked with Dies Ater before. Available are a jewel case compact disc with poster and postcard, and a 12" vinyl LP, with two-sided insert, poster and postcard. And of course there is that digital edition too…
[(*) guitar player / backing vocalist / co-producer Julian Müsseler, guitar player / drummer / co-producer Eugen Herbst, bassist David P., and lyricist / lead singer / guitarist Alfonso Brito]
The six compositions are quite long in duration, as we're used of, being in between five and ten minutes. These six tracks, in their totality, clock almost fifty minutes (the bonus track, featured on the CD edition, not included). But damn yeah, even reaching a duration of fifty-five minutes (my promotional copy includes the bonus track), this length is way too short.
Enigmatic Rites goes on in the vein of 2016's Wings Of Tzinacan, but once again the band goes a little step further than before. What these guys bring is a very 'full' form of rather Traditional Doom, the occult approach, with a focus on heaviness, atmosphere and melody, besides a whole concept of mystic, occult, ritual and gnostic themes and influences.
The better part is based on a monumental string section. The guitars and basses, both leads and rhythmic, are simply colossal in sound, with tremolo duelling and sharp-edged soloing, and a massive supportive rhythm section. This goes for the drums too, which are pretty intelligently supportive and, once in a while, even leading. This brings me, quite easily, to a short word on the production. Well, the sound quality is sooo cool. First of all, the mix of all instruments (vocals included) exists in a perfect equilibrium. If this were a culinary dish, you could taste all ingredients individually and as one tasteful meal. But there is such overpowering rawness too, especially when referring to the riffing. The strings are low-tuned and misty, but certainly not of the under-produced kind; just rough, rusty, sharpened and scuffed. Yes, it makes the result at least as thick and fat as a wild boar with rabies.
Striking is the increase of an epic touch of glory. You know, for some reason a piece like Wandering Soul has several moments that are pure Bathory worship (era first half of the Nineties), and that, in combination with references to Candlemass (more than ever before!), Coven, Black Oath, The Wounded Kings, Solitude Aeternus, Ereb Altor and equally-minded combos, makes the result quite interesting.
Besides, Albez Duz are not a copy-cat at all. The use of elements from Stoner somehow, the Seventies influences, the unique vocal appearances (I did not mention the voices yet, but they are quite varying, and somewhat remarkable, with different types of clean singing, as well as some whispers, harsh shouting and spoken words), the few Post-oriented riffs (to give you an example, listen to the opening sequence of the 'short' [5:31] instrumental When The Bird Fledges), and many more elements and aspects here and there, make this final album, at least to my opinion, a highlight in their career.
And finally this: those who wonder about the bonus piece on Enigmatic Rites, well, it is a shorter piece too (06:20), but one of the most intense, arduous ones by Albez Duz for sure. It comes with those typifying Seventies moog / organ / synth sound, monumental riffs, and both clean and harsher vocals. And what a fabulous drum patterns…
https://www.shop-listenable.net/en/cd-/8825-albez-duz-enigmatic-rites-limited-edition-ocard-with-exclusive-bonus-track.htm05:31l
https://listenable-records.bandcamp.com/album/enigmatic-rites
https://albez-duz.bandcamp.com/
https://www.concreteweb.be/reviews/albez-duz