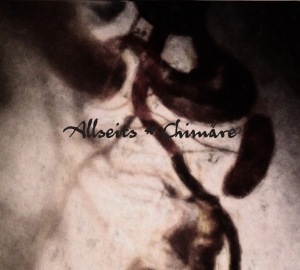 Release Date:
Friday, February 19, 2016
In my case, the name Nina Kernicke did not immediately ring a bell, but when I noticed that she's part, from time to time, of the Troum live line-up, my attention got caught intensively. It turns out that this German artist acts solo as All Sides, as well as under the moniker of Allseits. With Allseits, Nina did release the album Hel about six years ago, and now she returns with Chimäre, which gets released, once again, via Cyclic Law in an edition of 600 copies (8-panel digipack).
The six lengthy compositions (they clock almost seventy minutes) are inspired by mankind's duality in our daily life. Chimäre stands for a metaphorical definition of life's struggles and doubts, the illusion of people thinking that they construct their own lives, but as a matter of fact the truth is that desires and wishes are discordant perspectives. We are not what we think we are, and we are not what we wish to be, that's the essence, as I comprehend it…
Nina makes use of the 'evident' instrumentation, i.e. (electric and acoustic) guitars and bass, and occasionally some drums / percussion and samples, in order to create a thick, multi-layered aural journey. All pieces, though coming with quite some differentiation, are rich and multi-dimensional sonic collages, created around grand layers of droning guitar melodies and hypnotic and bleak synth-riffing. Opener Drown, for example, is like an aural definition of a broken heart's beat, like a field recording that gets described in terms of Shoegaze-injected leads and heavily-pounding bass-drones. Those trusted with the ConSouling Sounds roster must pay attention!
I did mention 'differentiation' in the former paragraph. It has to do with the variety in between the different compositions. Each piece itself is quite enthralling and permanently pushing the listener to go on joining the mental travel. But the strength lies within the different emotions that are brought by every single creation on Chimäre. Ambient-soundscape Interlude for example is, in contradiction to the opener I mentioned, more introspective and tranquil, even melancholic in essence, while a piece like Monster is more industrialised, harsh, pulsating, bleak, obscure, noisy and droning, focusing probably on a nastier angle of disappointment, desolation, inner discomfort. Both examples do differ qua concept and aural approach, yet they are at least as intriguing and breath-taking as the other. And that, as a matter of fact, goes for every chapter on the album. All pieces build up, step by step, in order to channel the sonic extremism unto grand finales of Aural Art. Further on there are elements from Ritual Martial Industrial of the most obscure yet depressing kind (like long-stretched epic October, which includes nice drum patterns), or what to think about pulsating and repetitive machinery-Industrial minimalism (Sink In Sideways)…
Lately there are so many great Drone / Noise / Ambient / Industrial releases, but for sure this might be one of the best ones I came along. Cold Spring, Malignant, ConSouling Sounds, Arsenic Solaris, Frozen Light; it's just a direction, and Cyclic Law are part of this top-series! With this release, the label once again proves its qualities!