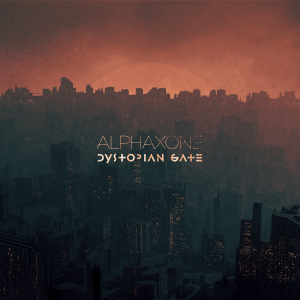 Release Date:
Tuesday, January 14, 2020
I am not going to introduce this project anymore – I did it a couple of times in the (recent) past (links: see below). But let's be sure that I am always somehow aroused when I notice that Alphaxone did release something new. Just in short, FYI: it is an outfit by Iran-born musician Mehdi Saleh, very closely related to the mighty Cryo Chamber label.
It is that very same label that releases this new album by Alphaxone. Entitled Dystopian Gate, you might get a clue of the uncertain journey through unexplored dimensions that are as ominous as they are escapist. What lies behind the limits of the conscious, beyond the borders of knowledge and truth? Wonder, doubt, hope and anxiety guide you when leaving the earthly existence; preparing yet never prepared to escape the physical gravity, to plunge into the unknown, into the uncertainty; somehow into the unexpected across the stars too…
Dystopian Gate is available the digital way, of course, as well as on compact disc. The latter comes in a limited edition (400 copies) in a six-panel digipack, including great artwork, once again, by label owner Simon Heath (Sabled Sun, Atrium Carceri etc.). The latter, also 'once again', took care of the final mastering too (this actually goes for about all releases on (t)his majestic label). And oh yes, the total running time comes close to one (earthly) hour.
And as from the earliest moments, Dystopian Gate truly accompanies the listener into those dystopian worlds of audible suppression – and aural art as well. Created around dense and oppressive layers of gloomy and ominous sentience, and heavy and doomed melodicism, Mehdi aka Alphaxone offers a (read: another) tragic sonic experience, mingling aspects of Cosmic Drone, hypnotic Long-form Ambient and even hints of IDM, with prominent details from Field Recordings and Industrial, or as stated, 'Space Ambient and Warm Analogue pads'. And there lies the strength of this project: the huge variety.
But first this. Despite the 'huge variety', there is an enormous cohesive and organic totality, which makes this album, once again once again (once again?) a naturally sounding journey whatsoever. Anyway, this play balances in between the extremes of long-stretched and hypnotic ambience, over rather cinematic and Lovecraftian obscurity, to astral progressivity, and everything in between. Dystopian Gate is one huge soundtrack for some Film Noir, the score for a sinister and macabre story. There is a lot of dissonance, which strengthens the oppressing, even claustrophobic atmosphere, yet it remains delicate and tender in its executed resonances for sure.
Abyssal bass lines, thunderous drones and eldritch Ambiental rituals get canalised into one overwhelming, and for sure an extremely intense mental experience, twisted yet, at the same time, trusted in a sardonic sense, horrific yet craving for more, repelling yet attractive too. And that's a strength quite unique, courtesy of this Iranian project. With Dystopian Gate, Alphaxone succeeds for the xth time to captivate, to arouse and to disgust, to create both enlightening hope and destructive syncope. And in some sadistic, or masochistic way, it works. Despite a certain minimalism and repetition in execution, there are so many subtly hidden details getting exposed and revealed over and over again, and each listen will uncover new aspects and elements.
And that's exactly what the concept deals with: a vast space of infinity, void and endlessness, compared to the intimacy of detection, realization and introspection.
(and soon you will find a review on another collaboration that includes Alphaxone along with Onasander and ProtoU, by the way, which is called Shadows Of Forgotten Legends, also released via Cryo Chamber, and another review for an EP under the Morego banner, called Blessed Seed)
https://alphaxone.bandcamp.com/album/dystopian-gate
https://cryochamber.bandcamp.com/album/dystopian-gate
https://www.concreteweb.be/reviews/alphaxone
https://www.concreteweb.be/reviews/alphaxone-0
https://www.concreteweb.be/reviews/alphaxone-xerxes-dark
https://www.concreteweb.be/reviews/alphaxone-protou