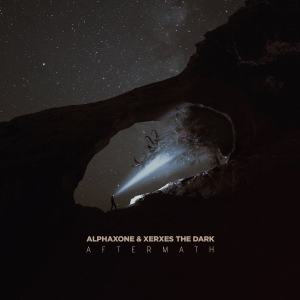 Release Date:
Tuesday, November 6, 2018
In our countries, we see Iran as an exotic area, far away from our (narrow-minded) (capitalistic) ideas and thoughts. But their musical scene, well, is not known. I do know some hands full of bands / projects (often anonymous, cf. religious fundamentalism – no further comment) that dwell within the (Black) Metal scene (and hey, there are some truly underestimated yet worthy and excellent recordings from Persian soil!), yet there is a small / vivid (delete as appropriate) Ambient / Experimental / Drone scene too. I want to refer to the compilation Visions Of Darkness (In Iranian Contemporary Music), released in early Autumn 2017 and reviewed by undersigned (see: http://www.concreteweb.be/reviews/various-artists-visions-darkness), or its predecessor Persian Experimental Underground 016 Survey (not reviewed on this webzine). And I can also refer to Cryo Chamber, a label that did release several recordings in the meantime by two excellent and famous one-man projects from Iran, Alphaxone and Xerxes The Dark (both of them contributed on that Visions Of Darkness … compilation, by the way).
These two projects joined forces a short while ago (they collaborated before as well on Tomb Of Seers, yet separated from each other), resulting under the banner of Aftermath, and released, evidently, via that magnificent Cryo Chamber label. Both musicians, Morego Dimmer (Xerxes The Dark) and Mehdi Saleh (Alphaxone) worked together to create an unsettling space collaboration within the label's typifying cinematic approach. It's a conceptual story-telling alike album, this Aftermath, dealing with a quest, an explorative journey beyond our stars, searching for an extra-terrestrial existence. To think that an ancient tablet buried in Babylon led you here, to these stranger suns […] …the signal came from there? As you approach the titanic structure a low-frequency hum, emanating from somewhere within its chrysalic surface, grows stronger. Thus we're searching for contact, for answers…
Oh yes, in short, before going somewhat deeper into the sonic aspects of Aftermath: design and mastering were done, once again, by label-owner Simon Heath (the same guy behind mighty Atrium Carceri, a.o.). this said…
Divided over nine chapters, Aftermath is a muggy, heavy listening experience that offers the characteristic approaches of both artists involved. In the vein of the label, this album is like a cinematic adventure, the soundtrack for the story behind the concept. And each of the compositions tells its part of the story, as from the discovery of the ancient amulet, the journey though space, the encounters, the search and discovery of the previously unknown planet and its possible existence, the contact announced by exploration equipment, and in a metaphorical way the rebirth, ideas and concepts on the origin. The whole album builds up, progresses, it tells the story through the creation of asphyxiating Drone passages, icy Dark Ambient and astral field recordings (don't let 'astral' scare you of, for there are no spacy electronics involved). You've got those rich yet enormously bleak and almost esoteric droning layers with that mystic and occult atmosphere, courtesy of Alphaxone, nicely mingled with the gloomy and dreamlike ambience, grim and nebulous in essence, from Xerxes The Dark, both canalised into one fantastic soundwave; nine soundwaves, actually, but seen the coherence of this conceptual recording…
It might seem ridiculous to dissect each single title, for Aftermath must be seen as the aural representation of one huge event, one precarious exploration into the unknown, as a whole. There is  lot to experience, with serene reverberating excerpts, excited and agitated passages, desolate waves, pulsating heaves, and obnoxious, dismal moments of discomfort. In its totality, Aftermath defines an aural exploration; it stands for one majestic cinematic concept that fascinates the whole of the time. Those trusted with the label, or with both projects involved more specifically, will adore this grandiose adventure (once again)!