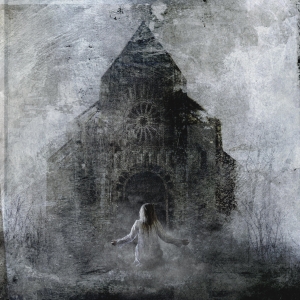 Hailing from the very south of Saskatchewan (actually, they are from the city of Regina), not that far from the border with our oh so beloved country U.S.Aargh, Altars Of Grief are another Extreme Doom band from Canadian soil – or is it Prairie Doom they are performing... The band surprised me a lot with their independently released debut from 2014, This Shameful Burden (Hypnotic Dirge Records have recently re-released this material!), as well with the split Of Ash And Dying Light in 2015, done with their fellow city-men Nachtterror. Then, unfortunately, things went silent. To my opinion: too silent.
Enter 2018. Nick Skog, the guy behind Hypnotic Dirge Records (hail to you!), did send me the promotional recording for the second Altars Of Grief album, which is called Iris. You can find the digital thing online, and there's a physical edition too, being a four-panel digipack compact disc with a six-page booklet, printed in an edition of 500 copies. The artwork, by the way, was created by American visual artist, one of the most prominent and talented ones within the Metal worlds, Travis Smith (think: Opeth, Anathema, Halcyon Way, Katatonia or Amorphis, amongst many others). Everything was recorded in the band's hometown (Blue Door Recording & Retrosleep Studio) by singer / lyricist Damian Smith, guitar players Erik Labossiere and Evan Paulson (also the composer), drummer Zack Bellina, and bassist Donny Pinay. And the result clocks fifty-six minutes, being seven lengthy songs (in between six and ten minutes of duration) and a shorter outroduction.
Iris is a conceptual album, telling the story of a father who loses his daughter because of her illness. Because of the sickness and the faith the daughter, called Iris, carries with her, the father leaves. When he dies, shortly after, in a car accident, his faith, his burden, his punishment is to watch his girl fighting against her sickness, not being able to help her, just to see her life fading away. Melancholy, anger, fear, regret, helplessness, grief, prostration and syncope represent the father's post-life thoughts, as an eternal punishment for his cowardice and betrayal.
Iris starts, well, why wouldn't I use the word 'beautiful'… Opener Isolation starts quite so(m)ber and floating, with fairylike keyboards and a splendid acoustic guitar melody, and slowly it evolves into a heavier piece, still maintaining the melancholic (and beautiful!) atmosphere as the introducing moments brought. And so it begins… A genuine mixture of melancholic Doom Metal and oppressing / depressing Black Metal, injected by elements from Post Metal / Post-Rock and universal Doom-Death Metal, and fuelled by some progressive elements (listen, for example, to the subtle yet unique hooks hidden in the title track), as well as quite some Gothic-oriented influences, is what makes the essence of this album. Melodious vocals interact with wretched screams, depressed melodies are interspersed by acoustic ones, or some heavier outbursts, and all this gets enriched by some epic, angry and / or dreamlike excerpts. Isn't that great?! The focus on the equilibrium melancholy – mystery (!) is a prominent element, almost touchable within every single composition.
As mentioned, there are some heavier eruptions too. Desolation is such example, with quite intense and powerful structures, venomous screams, blasting drum patterns and a monumental instrumentation. Even within the few decelerated moments, this song is the defining expression for this band's grandiose ability to write and play majestic material. The very same goes for the other energetic pieces on the album, showing a dynamic elegance that finely contrasts, and organically interacts, with the other parts. And even though I am not that 'fan' of progressive elements, I still think it surely works right here, through the timeless approach and well-performed uncomplexity of Altars Of Grief. And it is truly, really, honestly, so fine to notice that natural, almost easy-looking balance and interplay in between those fiercer moments, and the many integer, woeful ones. Listen intensively to Becoming Intangible, with a first half that sounds like a Type O Negative – My Dying Bride – Woods Of Ypres hybrid, before translating the very same pitiful atmosphere into a harsher Metal hymn of Doom!
Worth mentioning too is the use of cello, which often absorbs all attention, or strengthens the crestfallen melodies. The cello, by the way, was performed by Cholera's Raphael Weinroth-Browne, who also wrote (and performs) the album's epilogue.
This is dramatic and cinematic Prairie Doom for fans of Swallow The Sun, October Tide, In Mourning, Immensity, Woods Of Ypres, Daylight Dies, even My Dying Bride, older Katatonia and the likes… I liked the band's debut a lot (I will write a review soon because of the re-release of that 2014-album, so pay attention), but this sophomore full length is at least as impressive and acceptable! A homage to a girl named Iris, and even though I do not know her personally, this tribute shows her passionate strength, and her father's sensitive reflections and impotency so deeply and honestly.