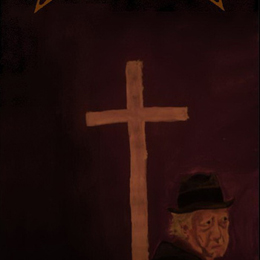 Swedish combo Aniara were formed in 2011 as Oak. Because of more bands or projects with that moniker, they decided to change their name into Aniara in 2013. However, soon after the band split up and most members went on with their other bands or projects. As a quartet (vocalist and guitar player David 'Witchfinder Ågren' Olofsson [in Aniara he focused on the vocal parts only, and the band recruited a second guitar player, Carl Hanssen, to replace David as guitarist], bassist Emil Wigö, guitarist Benjamin Simac, and drummer Marko Kardum), Oak recorded a demo which was called Caress Of Darkness. This one was originally self-released in early spring 2012, and it was the sole official recording / release by Oak. Soon after Oak became Aniara, this material got remixed and the improved result (which also includes new artwork) was done with a very intelligent reason: to have it properly released as official EP.
Caress Of Darkness consists of four hymns that last in between four and eight minutes (total running time: about twenty five minutes). It opens with October Sunrise, which starts with a melodic acoustic introduction, and soon it turns into an ultra-heavy, down-tuned and firm Doom epic with a massive sound. The rather classic Doom-approach brings back the eighties to mind, but without being narrow-mindedly 'retro'. The riffs are pounding and sluggish, with melodies that caress both imagination and purity. Great too are the vocals by Witchfinder Ågren, and despite his young age, he convinces with his 'warm' voice and varied timbre (a couple of times, he transforms into grunt / scream, and it fits well!). [this guy also 'sang' in Decapitated, and currently he's involved with Portrait and Hands Of Orlac, FYI]. Arcane Sanctuary is little more power-driven and aggressive, and my favourite on this recording. It holds every detail a fan if Traditional and/or Epic Doom appreciates, including a majestic solo, clean yet also rough vocals, and an enormously heavy rhythm section. Into Our Coven starts just fabulous, with an hypnotic lead and eerie riffs (listen to the great interaction of the guitars!), and it must be one of the most haunting and sinister Doom epics you've heard in years. The title track, the last aural pièce d'art on Caress Of Darkness, is the heaviest track on the EP, but still it maintains the abyssal obscurity of the concept, and therefore it truly is the most appropriate grande finale for this re-issue.
Anyway, there are no details that seem to be incorrect. The drums, the vocals (see higher), the leads and rhythms, yet also the sphere, the production quality; everything has been created with eye for detail, with persuasion, with craftsmanship. It's a pity this collaboration came to an end, because the chemistry created by these guys is of a level undefinable.
A convinced recommendation if you're into the likes of Count Raven, Candlemass, earlier Memory Garden, Griftegård and Mirror Of Deception.