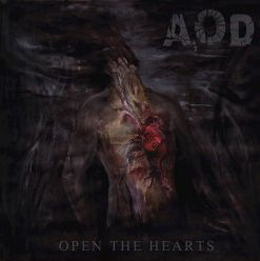 A.O.D. is the abbreviation for Architects Of Disease. It's a Polish act, formed in 2012 after the demise of Iugulatus. The question is whether A.O.D. can be considered a new band, or whether it is Iugulatus after a change of moniker. As a matter of fact, Iugulatus split up after the departure of singer Balrog; shortly before, also drummer Wojtass left. Both of them are now in Slain, but that's another story. After those departures, the other Iugulatus-members decided to continue anyway, and they did form A.O.D. I'm talking about guitar players Jakub 'Markiz' Walens and Mateusz 'Matys' Sobczak, and bass player Maciek 'Morbid M' Stokowski.
[1: Mateusz and Maciek were in Chordata, a notorious Death Metal act that also included newly recruited A.O.D.-drummer Michal Michalowski, as well as members from Valkenrag]
[2: Maciek used to be in Hecadoth too; Michal works with this project as live musician]
[3: Jakub is active as well in Deep Desolation, a band that also includes Radoslaw 'Meriath' Matusiak, who's actually the sole member of higher mentioned Hecadoth, and who used to be part of Chordata too; Meriath, by the way, does some guest vocals on this album]
[4: besides, Jakub is one of the founding members of Doomster Reich; this Doom-band recently released the album The League For Mental Distillation via The End Of Time, which has been reviewed by undersigned – see update July 20th on your beloved and adored Concreteweb-site]
[5: The End Of Time Records recently re-released Primal's Deathzone-album (the review will be done very soon, so watch out!); Jakub acted as session guitar player on that album]
Since their 'rebirth', this combo was joined by Bartlomiej Wilku (member of Persecutor and Deathlust) to do the lead vocals. This guy left in mean time, so the band is currently searching for a new vocalist.
The horde created some new material shortly before Iugulatus were put to rest – as a matter of fact, most material was sort of prepared and ready for recording when these guys were still active as Iugulatus – and when The End Of Time Records signed the band, A.O.D. soon got the opportunity to release the debut under the new moniker, called Open The Hearts. It was recorded by Markiz, Wilku, Matys, Morbid M and Wojtass (the latter indeed did the drum parts) with studio-assistance of producer Mariusz Pikor, whom the band did work with before when still being called Iugulatus; he also worked with Deep Desolation before.
Brings me, finally, to this first A.O.D.-album, Open The Hearts. It brings three quarters of an hour of fast, thrashing and intense Black Metal with both modern and traditional elements. The production causes an extremely harsh, rough and crispy sound result, with a somewhat disturbing mix, I think (the bass parts, for example, are very pronounced, the guitar riffing is little too 'absent' or 'hollow'). But this rawness fits to the extremity of the seven compositions on Open The Hearts.
Wilku's vocals are sort of 'apart'; not that they are totally different from the usual, but when used to Balrog's screams, it's an adaption. Wilku's voice rather reminds me to the actual 'Post-Hardcore'-current, including hints from L.G. Petrov, Piotr Weltrowski or Attila Csihar (in case this might give you an idea). The instrumental part (in case you might make abstraction of vocals as an instrument; a discussion not to be done right now), besides the sound I just wrote about, brings a massive and mostly cohesive density, filled with dreary eeriness, uncomfortable aggression, and sinister leads. Still comparable, evidently, to Iugulatus' former works, this material is little darker and less primitively classic in execution. The melodic tremolo riffage and the pounding rhythm section are extremely well balanced. In a way, many parts have a certain groove, another unique aspect that characterizes this Polish band. And the few slower passages aren't but positive. Without losing the lesser intensity, these decelerations are a welcome counterpart to the speed-up brutality of the fast-and-furious main part of this album.
The band currently is working on new stuff, and since I'm craving for more… Until then we'll have to do with this record, but I do not think that might be a problem!