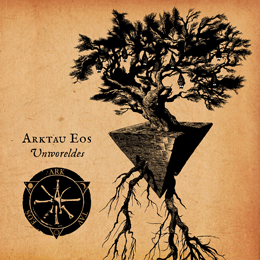 Release Date:
Friday, November 16, 2012
Arktau Eos are a Finnish project, formed by A.I.H. and A.I.L. (respectively Anti Haapapuro of Halo Manash / Aeoga / I.Corax-fame (when it comes to same-minded material), and involved with several (Black) Metal bands, and Antti Litmanen, known from Babylon Whores). They do not consider themselves as 'artists', but through Arktau Eos they try to express… Well, actually, I don't know… Their music stands for an aural experience, a sonic state of trance with a psychedelic undertone.
On November 16th 2012, Svart Records did release two Arktau Eos-recordings, Ioh-Maera and Unworeldes. The review about the first one you can find elsewhere within this review update as well.
Unworeldes has been released on vinyl only (Ioh-Maera on CD, just for fun???) and lasts for thirty seven minutes. The sounds (it is rather impossible to call these soundscapes 'songs') stand, like we're used from Arktau Eos, for hypnotic, trippy Ambient stuff, rather monotonous and repetitive, yet with an oppressive atmosphere, heavily droning and unworldly obscure. The ritual soundscapes induce deep, utter-dark, eerie expressions of audible Art, woven through tribal and ritual waves of natural ambience and cosmic energy.
A challenge!