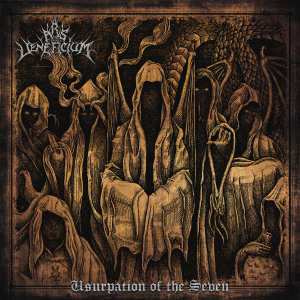 Release Date:
Friday, February 28, 2020
I am not going to write any introduction on this band, nor the label, for you can check out one of the former reviews I did for this band or label. When it comes to Ars Veneficium, see the links below; for the label, you can enter the name in the 'search'-tab and so on…
Just a short, purely objective, résumé: Ars Veneficium were formed about seven years ago, and they did release some highly interesting Swedish-influenced albums and splits, all of them via Immortal Frost Productions. Why this label? Because both band and label share one human being, S. And now they return with the follow up of 2016's The Reign Of The Infernal King (there was also a split in between that release and this new one, with Russia's Ulvdalir).
The line-up did slightly change; original members S. (vocals) and Ronarg (lead guitars) and long-time collaborator Archcaust (rhythm guitars) have now been joined by drummer Norgameus (he was already part of this line-up at the time of the former full length, actually) and bassist Y. Usurpation Of The Seven was mainly recorded at the home studio of guitarist Archcaust, and the result got mixed and mastered at the Wolfthrone Studio by no one else but Owe Inborr, who's not exactly a stranger to the label involved (both as mixer / master, as well as musician, i.e. Ondfødt and Dispyt). There's a pressing of a 1,500 physical copies on CD (1000 x jewel case and 500 x digipack, with a 20-page booklet and cool artwork by – who else – Moornebheym for layout and graphics; Oppositions Artworks took care of the paintings once more), and four different yet hugely limited vinyl copies too (normal black, silver, gold and picture vinyl).
Usurpation Of The Seven is a nine-tracker that clocks thirty-eight minutes. It commences with a short yet quite gloomy invocation, an ominous ritual called Hymns Of Chaos, and a very nice introduction for the sonic terror yet to come. And that sonic abhorrence explodes as from the very first moments of the first 'real' track, Wrath Of Life. As from then on, mercy and forgiveness aren't but hollow words.
With mardukian grimness, Ars Veneficium bring their known barbarian and monolithic Black Metal Supremacy. Why changing a winning team, they must have thought, so they did stick to their fast and energetic, yet highly melodious approach. Still the recognizable link with the Swedish scene remains an important factor to define Ars Veneficium's sonic whirlwind. With surgically precision and, at the same time, monolithic brutality too, the compositions breathe a sulfurous odor of blasphemy and vengeance.
Once in a while, the tempo decelerates (listen for example to certain parts of Devour The Light or De Luiaard Heerst, a.o.), but even then the monstrous heaviness and overpowering hostility remain truly overwhelming. Especially the massive and buzzing guitar sound and the thunderous drum patterns strengthen that power, intensity and craft.
This time too, the sound quality is top-notch. Within the mix, all elements (vocally and instrumentally) are equally represented. The members, all of those involved this time, are professional musicians, so it is a grandiose thing to notice that all of their efforts are legitimately balanced. Okay, sometimes certain guitar solos, tremolo twin riffs or vocal parts take the lead, yet still then all other ingredients remain as important as those on the foreground. At the same time, the production still has a rough edge, a raw sound instead of some clinically polished one, which defines the grim character of this album as well.
As mentioned above, Usurpation Of The Seven goes on in the vein of the former releases. It is fierce and often epic too (just check The Flames Of Endless Yearning and try to pretend that there is no glorious epic going on - you wouldn't dare to), based on the tradition of the Second Wave especially, and hugely influenced by the Swedish school. But there might be one difference, and that's the progression in song writing. I do appreciate all former efforts, but I think that this one is Ars Veneficium's most impressive album to date. It sounds enormously coherent and convincing, everything is flawlessly written and executed, and as from the beginning, you, as listener, get sucked away into this Flemish band's maelstrom of chaos, sin, wrath and flames (got it?)!
And just for information, but no one else but Acherontas / Shibalba / Nihasa / … wizard V. Priest guests on the track De Luiaard Heerst ('the sloth reigns'), giving that specific epic a unique touch of occult supremacy and ritual esotery with these spoken words (in fine contrast with the heinous throat of S.).
http://smarturl.it/usurpationoftheseven
https://www.immortalfrostproductions.com/bands/ars-veneficium/
https://www.immortalfrostproductions.com/releases/ars-veneficium/ars-veneficium-usurpation-of-the-seven-cd-digi-lp/
https://digital.immortalfrostproductions.com/album/usurpation-of-the-seven
https://www.concreteweb.be/reviews/ars-veneficium-0
https://www.concreteweb.be/reviews/ars-veneficium-1
https://www.concreteweb.be/reviews/ars-veneficium-ulvdalir-0
https://www.concreteweb.be/reviews/ars-veneficium-azaghal