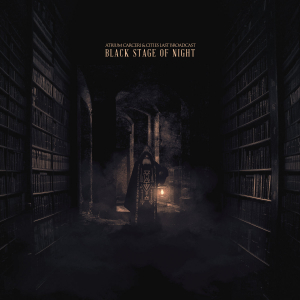 Release Date:
Tuesday, October 22, 2019
Cryo Chamber is an American label (from Oregon, to be more specific) that focuses, as stated on their Bandcamp page, on high quality dark ambient with a cinematic edge. The label is run by Simon Heath, sonic and visual artist, and the guy behind acts like Sabled Sun, Atrium Carceri or 'legendary' (sadly defunct) Za Frûmi. And within the Dark Ambient genre, Cryo Chamber for sure is (one of) my favourite(s) worldwide.
Black Stage Of Night is a collab-album, a new cooperation in between higher mentioned Atrium Carceri (the most active outfit by Simon) and Sweden's Cities Last Broadcast, one of the projects of Pär Boström (also known from Hymnambulae or Kammarheit). It's the follow-up to 2017's Black Corner Den, though they also recorded and released a collaborative thing in very early 2018, called Miles To Midnight, where both artists were joined by Bruce Moallem's God Body Disconnect, and some (evidently highly interesting) with Robert Kozletsky / Apocrypha.
Anyway, this newest epos was written, executed and produced by Simon and Pär (*); the latter also providing the lyrical elements, while Simon took care of the mastering, as well as the artwork. Besides the digital edition, there is one on compact disc (a sixteen-page digipack) and a limited pressing on vinyl (300 copies). Black Stage Of Night consists of eight titles (with a total running time of about thirty-five minutes), and once again it comes with stunning cover artwork, which is as mystic as it is intriguing.
[(*) I can't just not to mention this great quote about both artists: two Swedes, separated by the Atlantic Ocean and united in their vision to create an album that invokes the dream state]
The concept follows that of Black Corner Den, based on 19th century's events. Meet the bearer of all the keys and protector of the holy order of things. Come and drink your way to an elegant dream. It deals with a mental equilibrium, a higher state of mind, from which one can overview life, and deal with the balance of darkness and illumination. The lantern, you know, is supposed to be lit all night long…
Well, this indeed is a nightly soundtrack. Every colour on the painter's palette has its goal to make the creation look like one gigantic painting, a nightsky vision defined in aural gracefulness.
Mind Turns To Night (the first stage of this mental transformation) is combined of crackling sounds and cassette looping, floaty synth lines and additional sampling. It invites the listener to god body disconnect (sorry, irrelevant equivoque…) from the conscious by using this mixture of sonic details. The cinematic identity that characterises the label gets oh so evidently emphasized.
With Attic And Wormwood, the journey continues, entering a next level (a subsequent state of mind). A somewhat melancholic – I even think depressing – piano melody (first) and ditto synth waves (later) guide this album to an experience that trespasses 'Music'. In its freezing beauty, it's so captivating and enthralling, deep mysterious too.
And so Black Stage Of Night permanently evolves… Both contributor's talents, as you know, go well together, cf. their former collaborations. This time too, the film noir and the mesmerizing aspects from Pär, and the layers of droning heaviness and cinematic ambience of Simon, are ingeniously canalised into a nocturnal result. It is slowly evolving, climbing up, pulsating then again diminishing. It includes reverberating and / or procrastinating resonances, twisting pulses, hypnotic repetition, electroacoustic ambient, delicate drones and unsettling loops, added with samples and noises that disturb and agitate. …and that actually enlighten as well…
Black Stage Of Night is not exactly an easy-listening album, and one needs endurance to go through the storytelling. Yet after a couple of listens one might understand the deep-thought concept. And that's exactly the goal…
https://cryochamber.bandcamp.com/album/black-stage-of-night
https://www.cryochamberlabel.com/
https://www.concreteweb.be/reviews/atrium-carceri-cities-last-broadcast-god-body-disconnect
https://www.concreteweb.be/reviews/cities-last-broadcast
https://www.concreteweb.be/reviews/atrium-carceri
https://www.concreteweb.be/reviews/atrium-carceri-0
https://www.concreteweb.be/reviews/atrium-carceri-herbst9