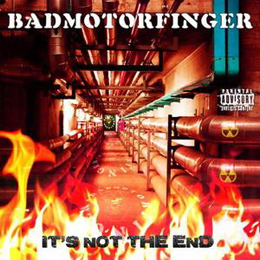 Release Date:
Monday, September 2, 2013
Hum...Badmotorfinger? I seem to remember a Belgian Stoner quartet from Antwerp, which released a demo-EP entitled Muchas Gracias Motherfurckers some time ago...so don't confuse the Bologna based Italian Heavy Metal act by the same name (which we're dealing with here) with the aforementioned, okay?!
The Italian Badmotorfinger was originally founded as a covers band in 2006 by guitar playing brothers Federico "HeavyRico" and Alex Mengoli, who first recruited bassist Massimiliano "Tommy" Tommesani and lead vocalist Stefano "Il Reverendo" Altobelli, knowing 'em from former local bands in which they'd shared previous experiences...and completed the line-up with the further recruitment of drummer Stefano "Steve" Deguglielmo.
During 2007 however, HeavyRico was inducted into the ranks of the notorious Italian Heavy Metal act Tarchon Fist, with whom he would record a full-length album, a promo CD, and a DVD, and engage in somewhat heavy touring throughout Europe, until the beginning of 2011, when he was forced out of TF for personal reasons. In 2007, Badmotorfinger's line-up also underwent the slight change of finding the first drummer decamp, but after a replacement by current skin beater Fabio "Barra" Bussolari, the band pretty much soldiered on in the covers circuit, most of the time without the aid of HeavyRico. Of course, once the latter had severed ties with TF completely, he totally returned to his old band, whom welcomed him back with open arms. A deision which they sure haven't regretted since then, because HeavyRico almost suggested that the band leave behind its former covers status, and start working on some ideas for songs that he'd come up with.
It's Not The End is the first result of that collaboration, and I have to say it's a reasonably decent album, but with its little defaults. Stylistically, one might say the band plays its Heavy Metal in a style which is perhaps closest to what came out of Germany in the latter part of the '80s. Freakishly enough, the singer also has an accent which is Teutonic rather than Italian/ Mediterranean, which enhances that original assessment. As is the custom within that genre, the guys bring a calmer track (yet not quite a ballad) entitled "Afterlife", and in spite of the members' enthusiam about leaving behind the covers idiom, they also close the album with a cover of Motorhead's "Rock 'n' Roll" (off the 1987 album by the same title). Positive is, that I hardly recognized it at first! Oh...and the track "Brand New Day" found a guest vocal role for Luigi "Sange" Sangermano of Sange:Main:Machine (another band on the logic(il)logic roster). Further vocal contributions come from Viviana "LaViv" Cappelli (on the songs "Nightmares" and "Afterlife"), and of 3 Times Ablazed (Viviana Cappelli, Luigi Sangermano, and Gianluca Frascari), whose contributions bring in no elements to deter my original judgement on the (overall) vocal delivery. For your introduction to the band's music, first check the two songs posted in the player at the label's site (www.) logicillogic.net, then listen to some additional tracks (and check out some live video footage) at (www.) badmotorfinger.it.
End conclusion : worthy party band which makes relatively good songs on the instrumental level (catchy recognizable riffs, and where used, the solos are splendid), but personally I would not pay to see 'em headline. Sorry dudes, but honesty...you know!