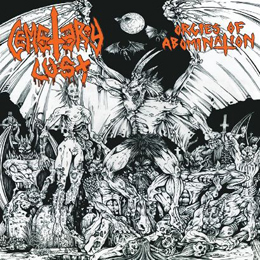 Portland, Oregon-based band Cemetery Lust was formed in 2009. After some demonstrational efforts, the band signed to Headsplit Records, and in 2012 they released the debut album Screams Of The Violated. Shortly after, the band moved over to Hells Headbangers, which did re-release the first album in mean time. A second result of this new co-operation is the release of the sophomore studio recording Orgies Of Abomination, which goes on in the vein of, and even further than Screams Of The Violated.
Orgies Of Abomination opens with the intro Inhumane Indulgence, which reminds me to many of the intros done by obscure Thrash acts during the eighties: obscure and horrific, yet neat and drawing your attention. As from Mass Grave Orgy the five-piece perform a primitive and uncompromising form of Eighties-Thrash, combining the Teutonic-styled excellence of Germany, mixed with elements from Death and Black Metal, Punk and Heavy / Speed Metal - all done without any trendy or catchy addition. The solos, the rhythm section, the vocal performance, the lyrics, the sound / production, and even the (great!) artwork; everything is done with nothing but a pure retro-vibe. And it is done with the necessary persuasion, craftsmanship and professionalism, but… (there needed to be a 'but', unfortunately): this stuff is not that memorable at all. I do not mind the heard-it-all-before attitude, for it is always a pleasure to have our melancholic minds turned back to the Roots of All Evil. The tracks, however, are all right, but nothing more than that. They won't stick and I am not convinced by the ordinary execution. Not bad, but nothing more either, I am afraid…
Oh yes, the band describes their style as Rape Thrash, so this might give you an idea???