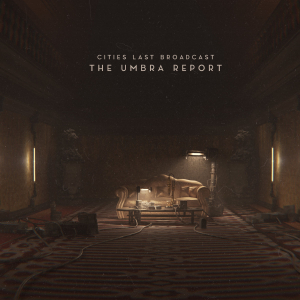 No introduction needed; just adding that Cities Last Broadcast is one of the outfits by Swedish sonic artist Pär Boström. Indeed, thé Pär it is.
With Cities Last Broadcast, Pär did several albums on the mighty Cryo Chamber label, both solo (this review actually deals with the second full-length) as in partnership with other fabulous acts (amongst which Atrium Carceri, run by label-owner Simon Heath). This newest work was written and executed, yet also produced by the artist himself, with Simon taking care of the mastering duties, as well as the truly amazing artwork (which could have been a vision within David Lynch's lunatic brain). As the bio says, this album is recommended for fans of warm tape recordings and pitch black drones. It is a dark and dreamy journey with ghostly electronics. This said, I have nothing more to add, I guess.
Yet still, it is my duty to show my passionate appreciation for this artist / this project, even-though I'll keep it succinct this time. This effort is, once again, a conceptual album, dealing with recordings coming from unknown sources, known as 'the Umbra report'. The horrific sounds might refer to a ritual, an exorcism, a psychiatric session. It's not evident to find the origins; it is not easy either to explore the haunting, disturbing and gloomy spheres behind these sound sources…
The Umbra Report consists of seven chapters, having a total running time of about forty minutes. It is like an audacious design of sound, a product of in-depth creativity and crafted inventiveness. The album brings forth a mixture of dep-rumbling drones, distorted soundscapes, waves of unphysical atmospheres and an asphyxiating, claustrophobic ambience. The whole consists of different layers of noise, with both static and dynamic progression, multi-layered sound-sketches and an untouchable level of reverberating tunes. The album moves forward in a slow, sedative way, and that tempo does strongly influence the eerie and enigmatic ether that enfolds this bleak yet, at the same time, warm aural journey.
It permanently develops, then again it decreases, vindicating the discomfort and confusion behind these sound collages. The digital conceptualization and execution gets smoothly injected by several samples and subtle yet ubiquitous noises, like almost imaginary and secretly taped vocals, distantly recorded conceptions from an unexplored dimension, or eldritch mechanics with a horrific nature. It convincingly accompanies the listener into - and through - mysterious and undivulged frames of the spirit.
Besides the digital edition, there are 400 copies on compact disc, which is a (beautiful) deluxe hard-cover digibook, as well as 300 copies on vinyl (black 12"-LP).
https://cryochamber.bandcamp.com/album/the-umbra-report
https://www.concreteweb.be/reviews/atrium-carceri-cities-last-broadcast-god-body-disconnect
https://www.concreteweb.be/reviews/cities-last-broadcast
https://www.concreteweb.be/reviews/atrium-carceri-cities-last-broadcast
https://www.youtube.com/watch?v=Xl2I3I4sRlo